Global Rallycross Racing Headed to D.C.
4/2/2014, 3:16 p.m.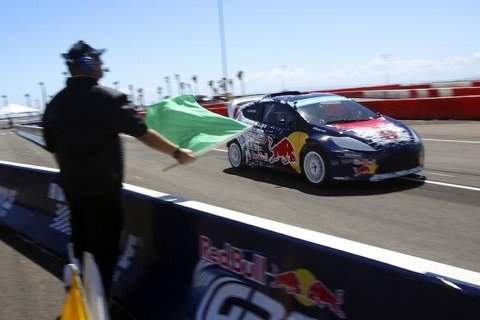 Volkswagen of America, Inc., Andretti Sports Marketing and Events DC announced Wednesday a joint venture to bring professional motorsports back to Washington, D.C. this summer with Volkswagen Rallycross DC — the third round of the 2014 Red Bull Global Rallycross Series.
The two-day event will take place at the RFK Stadium Festival Grounds on June 21-22 and televised live on NBC on June 22.
"Volkswagen is excited to bring professional motorsports back to the Washington, D.C., metro area, and to be involved in such a fast-growing, action-oriented sport," said Clark Campbell, general manager of experiential marketing for Volkswagen of America, Inc. "Volkswagen Rallycross DC is the perfect event to showcase the innovative performance of the Volkswagen brand and connect with our core enthusiasts."
In addition to the Red Bull Global Rallycross action that has become a fast favorite of extreme-sports fans, the festival will feature live music, food, entertainment, a VIP club and extreme-sports legends such as Tanner Foust, Scott Speed, Ken Block, and Bucky Lasek.
"We're thrilled to hold a race with such an historic backdrop and to bring this innovative form of extreme motorsports to the forward-thinking environment of D.C.," said Tim Mayer, the general manager of Volkswagen Rallycross DC. "In addition to putting on a spectacular show, we are committed to being good neighbors, and we look forward to some great initiatives we'll have in support of the race with a focus toward giving back to the community."
Volkswagen Rallycross DC is also partnering with So Others Might Eat, a local charity, for a food drive at the event. Fans will have the opportunity to donate nonperishable food items at the gate in return for a special selection of Volkswagen Rallycross DC memorabilia.
"The RFK Stadium Festival Grounds is the perfect setting for Volkswagen Rallycross DC, and we're excited to host this action-packed professional motorsports competition in Washington, D.C. this June," said Erik A. Moses, Managing Director, Events DC Sports and Entertainment Division. "This event has great appeal for the whole family, with a festival-like atmosphere featuring music, food, and interactive displays, along with high energy racing and compelling community initiatives."
Before on-track activity begins for the weekend, Volkswagen Rallycross DC will host Andretti S.T.A.R. (Science, Technology and Racing) — a program for kids interested in science and engineering. Participants will travel to different stations that teach an array of scientific concepts using real-world examples derived from racing, inspiring the next generation of engineers and scientists.
"We are proud to continue to bring world-class events to the Mid-Atlantic," said Michael Andretti, CEO of Andretti Sports Marketing. "The Global Rallycross Series is a thrilling and relatively new form of racing that delivers an entirely new demographic to the sport. We can't wait to introduce the energy of one of these events to a new audience."
The two-day event kicks off Saturday, June 21. The main event will air live on NBC on June 22 at 2 p.m. ET. For tickets and more information, visit www.redbullglobalrallycross.com/dc, Ticketmaster.com or call 1-800-745-3000.