Gray Supporters Disappointed, But Vow to Keep Backing Mayor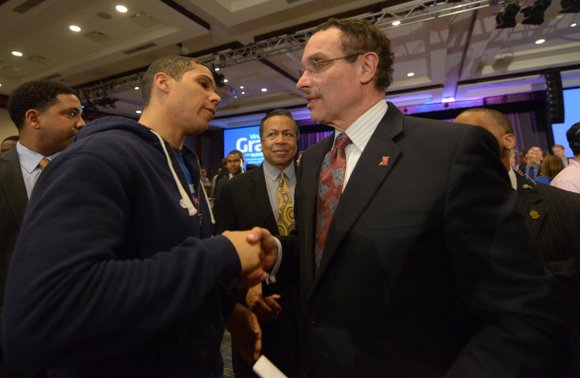 Muriel Bowser may have prevailed in Tuesday's Democratic primary against incumbent D.C. Mayor Vincent Gray, but die-hard Gray supporters say intend to support the mayor throughout the remaining nine months of his term — and beyond, if necessary.
"I felt good about what Mayor Gray has done for the city, and I will continue to support him no matter what," said Kim Williams, 49.
The Ward 5 resident said that as far as voting in the November general election, she'd first have to find out who's running, then conduct some research on them.
"I mean, you just never know," Williams said. "But right now, I would support whomever the mayor is supporting."
Such were the sentiments expressed by several loyal Gray supporters who gathered for a watch party Tuesday evening at the Hyatt Regency Washington Hotel in downtown D.C., where shortly before midnight the mayor conceded.
Although Gray lost support due to allegations of a 2010 shadow campaign that has plagued him and his administration for the past few years, he told the crowd he would continue to work on behalf of the District, with particular focus on education programs for pre-kindergarten children.
"We now have a robust early childhood education program [where] 70 percent of our 3-year-olds go to school every day and we have 92 percent of our 4-year-olds [in school]," Gray said during his concession speech to thundering applause.
The mayor also expressed hope that the District changes its primary date.
"For those of you who recall, we had the snow earlier which made it very difficult" to move around, Gray said. "I would hope that the primary would be changed in the future to June or July when it's more suited [for voters]."
Several of the party attendees admitted feeling let down in an election where so few people voted and tallies were slow to come in after election staff struggled to correctly use electronic voting machines.
Paul Moss was so angered by the election returns that he vowed not to vote this fall. He said the only person in the Gray administration he would support for mayor is Metropolitan Police Chief Cathy Lanier.
"This is it. I'm done," Moss, 35, said. "I'm studying to be a Jehovah's Witness, so I wasn't supposed to be voting anyway. But I went out and voted because I love Mayor Gray just that much. … The first time I ever voted, it was for President Obama and the second time was for Mayor Gray."
Moss surmised that Gray lost because people lacked dedication.
"It's like I told Gray four years ago," he said. "The problem is not going to be with you, it's going to be about the people that surround you. A lot of people wanted prestige that came with the job, when it came to the job, it was a different matter."