Host of Stars to Celebrate Marian Anderson
Pioneering Singer Remembered on 75th Anniversary of Iconic Performance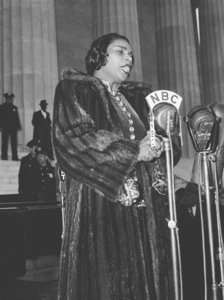 Nearly a decade prior to Jackie Robinson breaking baseball's color line and more than two decades before Martin Luther King Jr. helped to lead the civil rights movement, an Easter concert in 1939 by Marian Anderson proved to be the historic turning point in the movement to end Jim Crow segregation.
Seventy-five years later, few have forgotten.
"Celebrating Marian Anderson in our nation's capital highlights the enormous political impact her career had for black artists in America," said Paxton Baker, the executive vice president of Centric Television and a board member of the Washington Performing Arts Society (WPAS) in Northwest, which will present, "Of Thee We Sing: The Marian Anderson 75th Anniversary Celebration," at DAR Constitution Hall in Northwest on Saturday, April 12.
"Her exceptional artistry and unwavering determination to effect change continues to give us the courage to face seemingly insurmountable personal and political obstacles with grace and resolve," said Baker, 53.
"In her own right, Marian Anderson's life, courage and conduct were as significant as Rosa Parks. And as Harold Ickes said when he introduced her on that Easter Sunday, 'Genius draws no color lines.'"
Anderson, who died at the age of 96 in 1993, counted as an internationally renowned concert contralto.
Despite her talent and fame, in 1939, the Daughters of the American Revolution, a lineage-based service organization for women who are direct descendants of individuals involved in America's independence and who once advocated segregation and discrimination, refused to allow Anderson to perform a concert at Constitution Hall because of her race.
The refusal triggered an immediate response from then-first lady Eleanor Roosevelt and Ickes, the secretary of the interior, who planned an outdoor concert featuring Anderson at the Lincoln Memorial in which 75,000 people attended.
"The legacy of that concert and Marian Anderson's music opened the doors for people of color," said Stanley Thurston, a conductor and artistic director with WPAS who has also served as guest conductor, collaborator, and performer with the Choral Arts Society of Washington, and who's performed at venues like New York's Carnegie Hall, the Kennedy Center Concert Hall, the U.S. Capitol, and the Washington National Cathedral.
"What's interesting is that after they refused to let her perform at Constitution Hall, America rallied around Marian Anderson and really, if they hadn't refused her, none of this may ever have happened," said Thurston, who will direct a composition written by former Sweet Honey in the Rock member, Dr. Ysaye Barnwell.
The composition will feature a choir of nearly 300 voices led by Thurston that will tell Anderson's story through music, words and images, tied together with a narrative by Tony Award-winning playwright Murray Horwitz.
"Dr. Barnwell sat in recently on a rehearsal and she just loved how it has all turned out," Thurston said. "This is such an extremely significant performance for me because I remember sitting in music class as a little boy when Marian Anderson's video was played. This is really important and it fits right into the music I studied growing up."