Host of Stars to Celebrate Marian Anderson
Pioneering Singer Remembered on 75th Anniversary of Iconic Performance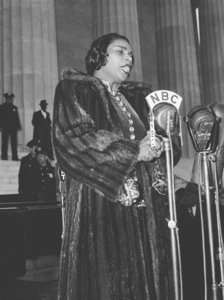 The 7 p.m. concert celebration will be hosted by one of the world's most celebrated artists, American soprano Jessye Norman, a Grammy Award-winning opera singer and recitalist.
Norman, 68, has performed in a wide range of leading roles with the world's top opera companies, in solo recitals and in concerts of her cherished classical repertoire with preeminent orchestras all over the globe.
"We are all looking forward to this because Marian Anderson meant so much," said Barnwell, 67.
Additionally, the celebration will include performances and appearances by singer Dionne Warwick, the vocal group 3WB, actor Malcolm Jamal Warner, CNN Anchor Wolf Blitzer, opera singers Solomon Howard and Alyson Cambridge, American Idol winner Candice Glover, vocalist Annisse Murrillo and others.
Twenty District-area choirs will also be featured.

During a recent television program about Anderson's life that was broadcast on the Biography Channel, producers noted that she grew up in Philadelphia as the oldest of three girls and, as a six year old, Anderson became a choir member at her church.
Her father, a coal and ice dealer, supported Anderson's musical interests and, when she turned eight years old, he purchased a piano for her.
With the family unable to afford lessons, Anderson taught herself how to play. She earned an opportunity to sing at the Lewisohn Stadium, a popular former amphitheater in New York, after entering a contest organized by the New York Philharmonic Society.
In 1928, Anderson performed at Carnegie Hall in New York and eventually embarked on a tour of Europe. She became the first African American to be invited to perform at the White House.
Anderson also became the first African American selected as a member of the New York Metropolitan Opera.
Thurston said Anderson's music and her life have inspired many.
Others agreed.
"A culminating event in WPAS's ongoing cultural and educational outreach program, that among other things, has introduced 10,000 D.C. school children to Ms. Anderson's artistry and activism, 'Of Thee We Sing' is already being heralded as a vital cultural event for the D.C. area," said Jenny Bilfield, president and CEO of WPAS.
"We honor [Anderson's] qualities by gathering together generations of performers and audience members whose lives she touched with her exceptional humanity, and by introducing the youngest generation to her enduring spirit," Bilfield said.