Howard U. Celebrates Centennial of Music Department
Jazz Concert and Events Mark Milestone Anniversary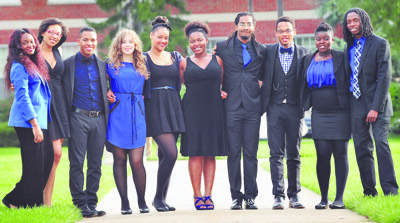 Hugh Masekela recently proclaimed that a classical people deserve a classical art.
The South African-born trumpeter, composer, singer and human rights activist made it a point to note that he was referring to jazz – particularly Howard University's brand of jazz.
Masekela, 75, who last performed at Howard during a tribute to the late South African president and civil rights advocate Nelson Mandela in February, will return to the school to help celebrate a major milestone.
He will join composer, pianist and educator Geri Allen and Howard University's award-winning vocal jazz ensemble and former NBC television's "Sing Off" contestants Traces of Blue in an alumni concert at Cramton Auditorium in Northwest on Monday, April 7.
"Masekela will perform with the university's Jazz Ensemble and the Alumni Jazz Ensemble and it's an exciting night because everyone involved has a Howard connection," said Connaitre Miller, an associate professor of music and coordinator of Jazz Vocal Studies at Howard where she also directs, "Afro Blue," and teaches vocal jazz improvisation, vocal jazz arranging, and she provides voice lessons.
Miller will conduct the 7 p.m. concert that will celebrate the 100th anniversary of the Howard University Music Department. Part of the university's seventh annual "Jazz Week," the concert will also serve as a prelude to a week of jazz-related celebrations and performances in and around campus.
"It's the first time we've done an alumni concert like this," Miller said. "And to have Geri Allen who we do a lot with and she's an alumni who really does know how to give back with performances, time, and in so many other ways."
The week of activities celebrating the centennial of the university's music program will also include a panel discussion on the history of jazz at the school, a workshop on alternative jobs in the music industry, a vocal ensemble master class, a "Legend of Charlie Parker" concert, and a retirement appreciation concert for Charles Covington, a professor of jazz piano at Howard.
Covington, a widely recognized figure in the music world, has performed at the White House for former President Jimmy Carter, on Johnny Carson's Tonight Show, and he's worked with such music and entertainment greats as B.B. King, the late Sammy Davis Jr., Eartha Kitt, Flip Wilson, Redd Foxx, and Morey Amsterdam.
"The concert should be great and I know a lot of us are looking forward to it, but we also can't wait for Dr. Covington's performance and seeing all of the alumni who should be here as well," said Monica Withers, a sophomore at Howard.
Miller said Covington's concert should also prove to be a treat and there's a buzz around campus for the entire week of activities.
She said the emphasis will be squarely on the 100th anniversary of the music department at the university whose history can be traced to 1870, when only a few courses were offered at Howard.
In 1914, school officials established the music program as an independent conservatory, thus the music department was born.
"We're simply excited about the week of jazz and to have all of this going on, including all those in the lineup and Masekela in town from South Africa is great," Miller said.
Masekela first arrived in the U.S. in the 1960s and within a few years he began working on an album that he said lacked one last track before it could be pressed.
Eventually, he included the song, "Grazing in the Grass," which went on to become a chart-topping hit that sold more than 4 million copies.
"I was told that I should put in flavors of the music where I came from," Masekela said in a previously published interview. "So, that's what I came up with. What I do is a lot of whatever comes from swing or whatever and I flavor it with South African music. I became an aspect of the African Diaspora of music," he said.
Howard University's 7th annual Jazz Week begins Monday, April 7 and will include a full week of performances, lectures, films and master classes, celebrating Jazz Appreciation Month, America's Jazz Heritage and the university's jazz alumni. For information, tickets and a complete calendar of events, visit www.coas.howard.edu/music.