Local Nonprofit Awards Book Grants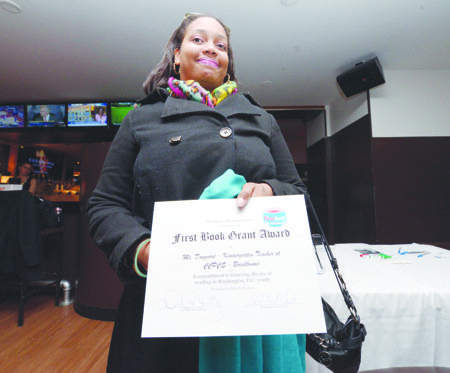 Dozens of local schools and nonprofits recently secured funds that will go toward the purchase of books and ensure the continuation of enrichment programs for District children.
First Book-DC, the local chapter of a national nonprofit that aims to increase literacy among elementary and middle school students that live in low-income communities, awarded grants that totaled $25,000 to 25 schools and nonprofits during its fifth Book Grant Celebration. The March 26 event at The 201 Bar in Northeast attracted more than 30 young professionals, philanthropists, educators, and community members.
"We started First Book-DC during a meeting at a coffee shop [years ago] and now we've reached our [biggest milestone]," said Angel McNeil, 29, co-chair of the Northwest-based nonprofit. "We've given out thousands of books to D.C.'s children and our impact has been awesome," said McNeil, who lives in Alexandria, Va. `

Nearly 10 million children living in low-income households across the United States enter the first grade reading at levels below that of their wealthier counterparts, according to a report by the LUME Institute, an education think tank in St. Louis. The report confirmed that a widening literacy gap exists in homes due to a lack of books, concluding that exposure to books in a child's early years guarantees a strong start in school and future academic success.

After guests dined and chatted with one another, McNeil and Darla Bunting, also a First Book-DC co-chair, presented certificates to grant winners, commending them for their commitment to breaking the cycle of intergenerational poverty.

New Community for Children (NCFC), a Northwest-based nonprofit that provides educational activities for children, received a grant in the amount of $400 that will help fund special events, children's book clubs, and projects that include the creation of movie trailers for books that students have read.

Frances McCrary, program director at NCFC, considered the grant, the second award that the nonprofit has received from First Book-DC, a valuable resource in helping it fulfill its mission.
"We've been able to give 120 books to our students and we would have not been able to do it [without these grants]," said McCrary. "I've worked in education for almost 10 years. Our youth need people that look like them that will put time and effort into their development," said McCrary, a Southeast resident.

Genghis X. Shakhan accepted a $1,150 grant on behalf of Friendship Tech Prep Academy in Southeast that will go toward the purchase of books that students can take home. The instructional specialist said students will benefit from their immersion in literature beyond the classroom.

"We wanted the students to start a personal library," said Shakhan, 39. "Our job is to make them fall in love with print and explain to them that no matter what [medium], whether it's a television show or movie, a writer is involved. The students will write about the concepts they learn in their journals. The books we purchase with this grant will help facilitate the process," said Shakhan who lives in Northwest.

First Book-DC, managed by an advisory board of 15 volunteers, has doled out more than $60,000 in book grants, the equivalent of 24,000 books, since its 2011 launch. Funds for the grants come from corporate and private contributors. The nonprofit distributes the money during fall and spring grant cycles, often encouraging local nonprofits and schools to apply. Grant winners in the spring cycle demonstrated a commitment to education and outlined how their services increased literacy among children living in low-income communities. The funds distributed by First Book-DC will purchase nearly 10,000 books.

Teresa Perry, a patent paralegal for an intellectual property firm, attended the event with a friend. She said that she enjoyed supporting what she considered an important cause while spending time with other young professionals.

"Gatherings like this are always successful because of the positive energy that we give one another," said Perry, 29. "I like supporting like-minded people that give back to the community. It's rare that you are around that. First Book-DC always gives these grants to up-and-coming organizations. This allows me to not take my education for granted," said Perry, a Bowie, Md. resident.