P.G. County Briefs: Baker Participates in 'Principal for a Day' Program
4/2/2014, 3 p.m.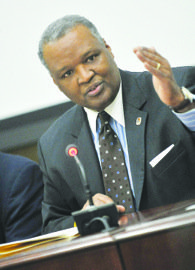 On April 1, the Prince George's County Public Schools (PGCPS) hosted its annual "Principal for a Day" program across all 205 school locations. Prince George's County Executive Rushern L. Baker III became "Principal for a Day" at DuVal High School working alongside DuVal Principal Alice Swift-Howard and Marcus Jackson from Six Flags America. County Executive Baker also attended the "Principal for a Day" reception for all participants at Dr. Henry A. Wise Jr. High.
"I am very excited to participate in the "Principal for a Day" program for the third time," said County Executive Baker. "We have so many outstanding principals at our schools and this program is a fun way to showcase how critically important and challenging this job can be. I am looking forward to spending the day at DuVal High School, and I wish the best of luck to my fellow "principals" participating in the program. Principals are paramount to setting the tone and vision for a school and we train some of the state's best right here in Prince George's County. I am eager to meet the students, teachers and staff at DuVal and I hope they are as enthusiastic as I am about spending the day with them."
Each year, the Prince George's County Chamber of Commerce partners with Prince George's County Public Schools to host Principal for a Day. The goal of the event is to introduce the business community to the rewards and challenges of education, and inspire active business partnerships within public schools. These business partnerships will help meet specific needs in schools and provide enrichment opportunities for students that go above and beyond the core curriculum.
Additionally, County Executive Baker's Education Liaison, Christian Rhodes, became "Principal for a Day" at Mary Harris "Mother" Jones Elementary School in Adelphi and County Executive Baker's Latino Liaison, Dinora Hernandez, participated by being a "Principal" at Ceasar Chavez Elementary School in Chillum.
Council Zoning Bill CB-6-2014 Being Considered by the Council on Expedited Schedule
The Prince George's County Council has scheduled a public hearing for Council Bill 6-2014, proposed legislation to authorize the MGM resort and video lottery facility in Prince George's County. The special evening public hearing will be held on Tuesday, April 15, 2014 at 6 p.m. in the Council Hearing Room, on the first floor of the County Administration Building, 14741 Gov. Oden Bowie Drive, in Upper Marlboro, Maryland.
CB-6 has been introduced with expedited scheduling because of the potential economic impact of the project. The proposed legislation was drafted to become effective immediately upon approval by the County Council, which is 45 days sooner than legislative process requirements.
"The County Council recognizes the urgent importance of the MGM project to our residents and we are going above and beyond routine procedures to expedite the scheduling of zoning legislation for the project," said Council Chairman Mel Franklin. "No one has facilitated the speed of this project's timeline more than the Council. This special evening public hearing on April 15th, will allow additional members of the community to attend who are normally unable to do so."
Persons wishing to speak during the April 15th public hearing on CB-6 can sign-up in advance by contacting the Clerk of the Council via email at ClerkoftheCouncil@co.pg.md.us , or by calling 301.952.3600. Written comments may also be submitted in advance by e-mail to ClerkoftheCouncil@co.pg.md.us, or by mail to:
Clerk of the Council
County Administration Building (Room 2198)
14741 Governor Oden Bowie Drive
Upper Marlboro, MD 20772-3050