Young Voters Fight for Political Leverage, Agency in Changing Economic Climate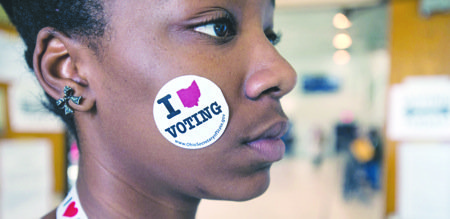 Young voters in the District remained undecided in choosing local officials even as polls opened on Tuesday, April 1 for the Democratic Party primary. The last-minute uncertainty though, can hardly be attributed to a lack of political interest or even unfamiliarity with candidates. To the contrary, D.C. voters between the ages of 18 and 29 engaged both council and mayoral hopefuls through college, community civic organization forums throughout election season.
Some residents, like 19-year-old Jocelyn Bodie, admitted little of her attention focused on the character and rhetoric of the plethora of mayoral candidates in D.C. and rested instead on pinpointing a candidate who would publicly address the concerns of those just gaining the vote.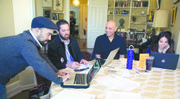 "Despite the fact that I am young, I have a lot of responsibility, including helping to care for aging parents, working full-time and going to school part-time. I am not hearing many politicians discuss the ridiculously high leases for apartments or the poor job market in the city," Bodie said.
A recent supplant from Indianapolis, Bodie said that when her parents were her age (they are now both in their 60s), the financial climate of the nation allowed them to marry, work full-time, attend college, and begin a family because of a livable and reasonable wage. Not being able to earn as well as her parents' generation, said Bodie, has hampered millions of millennials from fully accessing the American dream.
"It is absurd to believe a young person can enter a workforce able to manage the $2500 a month for rent, utilities, and basic expenses cities like D.C. consider average. I want to support candidates who understand that my teen status is only temporary and that my vote counts as much as my mother's or father's. My concerns are as valid, if not more so than my parents because I will have to live with the decisions they make now well into the future," Bodie said.
Bodie is among the millions of young Americans torn between living relatively comfortable lives with student loan debt and new families, or and entering the workforce as the working poor and remaining there. Bodie's roommate, Nichelle Royster, 24, a graduate student at Morgan State University, said that most politicians consider young adults transient and biddable, often overlooking the complex nature of their day-to-day struggles. Born and reared in Kearney, Neb., where the cost of living was considerably less, Royster said that she felt fortunate to land a decent two-bedroom apartment in Baltimore that she shares with three girls.
"We are two in a room and eating lots of cereal, ramen noodles and bologna because even though I have two part-time jobs, and the others have part-time jobs, we barely make ends meet each month. I'd like to believe this is temporary and it will be better once I graduate in May, but the job market looks frightening," Royster said. "Elected officials are not looking at these as disparities, but if I cannot function here as a student, I am more inclined to take what skills I acquire here somewhere else when I graduate."