Young Voters Fight for Political Leverage, Agency in Changing Economic Climate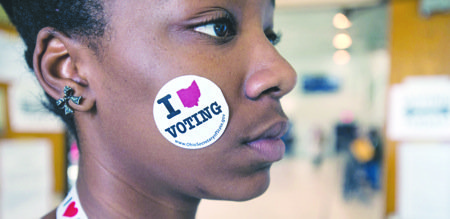 Jenkins said that she did not vote for D.C. Mayor Vincent C. Gray on April 1st, citing what she called a culture of corruption in the Wilson Building. Ethics, employment, housing, and education stood out among her greatest concerns.
A 2012 ABC News report showed that nearly half of all D.C. leaders and/or their staffs had been federally investigated for everything from unlawful cash campaign expenditures, failure to pay taxes, theft, and bribery. The allegations and indictments have taken their toll on constituent confidence.
"I want to see the track records of the candidates," said Jenkins, 31. "I plan on staying in D.C. for a very long time so I need to see things done correctly. The lottery process for enrollment in these top-tier schools is crazy. My seven-year-old son often gets overlooked. As a so-called middle-class woman, I can't even get subsidies for housing. You don't have much money left after housing expenses. The system keeps you in poverty," said Jenkins who lives in Southeast.
Not all young residents had trouble supporting a candidate. Chris Asmar, a full-time field organizer for the Andy Shallal for D.C. Mayor campaign since January expressed his disappointment that many young residents didn't pay much attention to the primary. The community organizer and D.C. resident of three years said that millennial participation in local politics ensures that candidates will put forth progressive agendas.
"People my age really think that this is stuff that's only relevant to older residents," said Asmar, 24. "They're not paying as much attention to local politics as much as they should. If you want to plug into national politics and help other countries set up a democracy, you need an understanding of your own community. People here have a responsibility to affect change in the city," said Asmar, a Northwest resident.
Other young Washingtonians believed that many of the changes in the District benefit newcomers.
While longtime D.C. resident Davie Yarborough struggled to make a final decision in her choice for mayor, she said that she wanted a person of integrity that would work in the interest of all residents.
"The changes happening around this city were not put in place to benefit the longtime residents," said Yarborough, 27, an educator and entrepreneur. "Gentrification is pushing people out of the city. We're allocating funds for the wrong things. We're building million dollar schools but paying our educators what we have always paid them," said Yarborough, a Northeast resident.