D.C. Gives $250K to Local Food Bank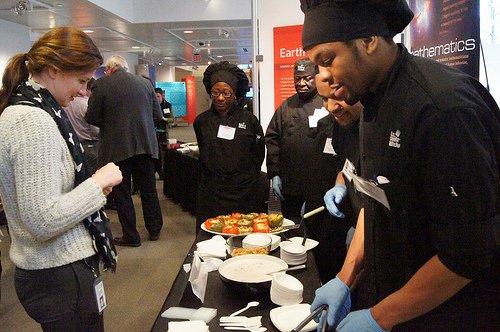 D.C.'s Department of Small and Local Business Development announced Friday that a $250,000 grant has been approved for DC Central Kitchen in Northwest.
The grant is part of the department's Healthy Food Retail Program designed to fight hunger in the District and will nearly double the reach of DC Central Kitchen's Healthy Corners program from 33 to 63 stores.
"DC Central Kitchen has been instrumental in leveraging its resources to provide valuable services to local 'food deserts'," said Robert Summers, the department's director. "Efforts such as these help promote awareness of the benefits of healthy eating."
"Food deserts" are neighborhoods in urban and rural areas that do not have a major grocery store within walking or driving distance. These deserts tend to be in communities that are populated by people of color and poor whites.
In the District, small-scale food outlets are the primary source of groceries in many neighborhoods east of the Anacostia River and they tend not to offer fresh and healthy foods — which is a problem because 61 percent of District residents are either overweight or obese, D.C. Department of Health statistics report.
Unhealthy eating and lack of exercise are reasons for the high rate of obesity, studies have consistently shown.
"Today represents a proven approach to public-private partnerships in D.C.," said Michael F. Curtin, DC Central Kitchen's CEO. "Thanks to the Department of Small and Local Business Development, we not have the resources to expand into new neighborhoods, making healthy food more affordable and accessible to District residents."