D.C. Seeks Master Developer for St. Elizabeths East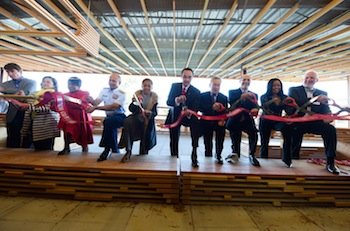 District officials are looking for a development company to start working on the conversion of the St. Elizabeths East campus into a mixed-use complex with housing, offices, shops and a widely publicized tech center.
Officials with D.C.'s Office of Planning and Economic Development, with the support of Mayor Vincent Gray (D), released recently a "request for proposals" for a developer to begin the first phase of the east campus redevelopment project. That phase includes 200 housing sites, 600,000 square feet of office space and a 175,000-square foot technology hub.
"This is an unprecedented opportunity to transform one of the District's most historic properties into an innovative and inviting community," Gray said. "My administration remains committed to ensuring this project moves forward and creates the jobs and economic benefits needed in Ward 8."
Microsoft is one of a handful of tech companies being courted to set up operations on the east campus and most of the District's universities will participate in the hub.
The Gateway Pavilion opened with fanfare in the fall. Gray recently announced that a new hospital will be built on the east campus.
On the St. Elizabeths West campus is the headquarters for the U.S. Coast Guard and, in the near future, the site of the U.S. Department of Homeland Security, bringing thousands of federal employees to Southeast.
Developers must submit bids by June 27. The winner is likely to be selected by Gray in November.