Gray's Budget Pours Funds into Ward 8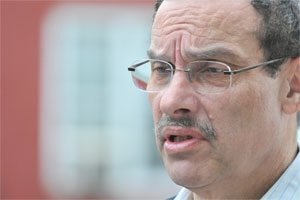 D.C. Mayor Vincent Gray testified Monday before the city council about his fiscal 2015 $10.7 billion budget, which will be his last and, for Ward 8 residents, one with good things in store.
Gray has allocated $28.6 million for DC Scholars Stanton Elementary School and $39 million for Orr Elementary, both in Southeast, for school modernization.
The mayor has also earmarked $300,000 to establish a new homeownership campaign targeting residents in Ward 7 and 8. The Ward 8 Business Development Initiative will get $500,000 for business façade improvements and an additional $50,000 funding for Clean Teams in the proposed budget.
Gray's capital improvement program will continue to fund the St. Elizabeths East Campus development project and has a line item of $300 million to create the East End Medical Center on the east campus, also.
"This will be a state-of-the-art facility that will replace the antiquated United Medical Center (UMC) facility located in Ward 8," he said. "This funding will allow the District to begin implementing its plans for long-term reform much more quickly than investing in the current UMC campus, thus affording the District a major rebranding opportunity and the potential for significantly increased market share that goes along with it."
The UMC site could be a potential mixed-use development with retail, office and housing spaces, Gray said, noting that its proximity to Prince George's County and the Southern Avenue station makes it a valuable piece of real estate.
The mayor said that he worked with D.C. Council member Marion Barry (D-Ward 8) on increasing benefits to residents who are in the Temporary Assistance for Needy Families program, many whom live in Barry's ward. The benefit will be increased under Gray's budget and it will be measured by the Consumer Price Index for the next few years.
"The proposed increase to the TANF benefit will provide better opportunities to families to move from dependency to self-sufficiency," Gray said.