Obama Announces $7M Grant at Bladensburg High School
WI Web Staff | 4/7/2014, noon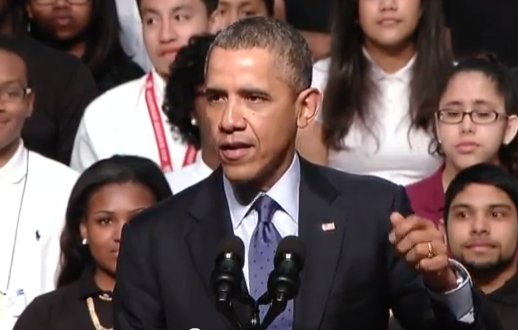 President Obama announced Monday a $7 million grant has been given to Prince George's County as part of a federal initiative to better prepare students for the work force.
"Many of the young people here, you've grown up in the midst of one of the worst economic crises of our lifetimes," Obama said during a visit Monday morning to Bladensburg High School, where he announced the grant. "And it's been hard and it's been painful. There are a lot of families that lost their homes, lost jobs; a lot of families that are still hurting out there. But the work that we've done, the groundwork that we've laid, has created a situation where we're moving in the right direction."
The award was granted to the county's Economic Development Corporation, which aims to help create high-quality jobs and attract and expand businesses in the region.
P.G. County's grant was one of 24 to be issued nationwide as part of Youth CareerConnect, a $107 million program aiming to give students "the knowledge, skills, and industry-relevant education needed to get on the pathway to a successful career," the White House said.
Bladensburg High is one of three county high schools that are part of the Youth CareerConnect program.
"You guys are all coming up in an age where you're not going to be able to compete with people across town for good jobs — you're going to be competing with the rest of the world," Obama told the Bladensburg students Monday. "Young people in India and China, they're all interested in trying to figure out how they get a foothold in this world economy. That's who you're competing against.
"Now, I'm confident you can match or exceed anything they do, but we don't do it by just resting on what we've done before. We've got to out-work and out-innovate and out-hustle everybody else. We've got to think about new ways of doing things," he said.