Senate Votes to Restore Benefits to Long-Term Unemployed
Obama, Dems Urge House GOP to Follow Suit
WI Web Staff | 4/7/2014, 7:30 p.m.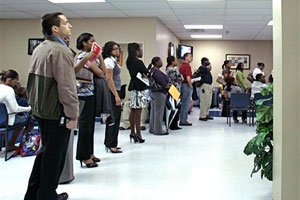 The U.S. Senate voted Tuesday to restore benefits for the long-term unemployed that went away in December.
Six Republicans voted along with Democrats, 59-38, to extend the benefits through May.
The vote could end up being largely symbolic as it makes it way to the House. Speaker John Boehner, who has dismissed past attempts as "unworkable" for not creating more jobs, opposes the current legislature as well.
President Obama and fellow Democrats nevertheless lauded the Senate vote and urged House GOP members to pass the bill and end the "needless drag on our economy."
"As I've said time and again, Washington needs to put politics aside and help these hard-working, responsible Americans make ends meet and support their families as they look for a job," Obama said in a statement following the vote. "Each week Congress fails to act on this crucial issue, roughly 70,000 long-term unemployed Americans lose their vital economic lifeline."
Rep. Marcia Fudge (D-Ohio), chair of the Congressional Black Caucus, echoed the president's sentiments.
"Our nation cannot afford to lose any more time in taking concrete steps to put the long-term unemployed back on their feet," Fudge said. "Speaker Boehner must bring the Senate unemployment insurance bill to the House floor for a vote without delay. I urge House Republicans to help the millions of taxpayers who lost their jobs through no fault of their own, and work with Democrats to create good-paying jobs for them."