EDUCATION BRIEFS: Banneker Student Accepted at 5 Ivy League Schools
4/9/2014, 3 p.m.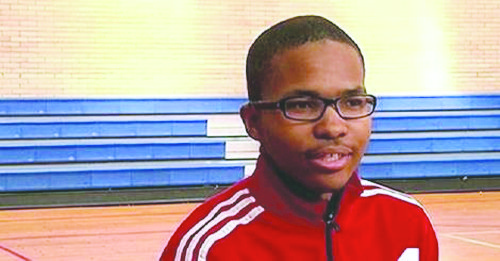 Seventeen-year-old Avery Coffey, a student at Benjamin Banneker High School in Northwest and a four-sport student-athlete, is the recipient of five Ivy League school acceptance letters.
As a result, the Southeast resident's acceptance at Harvard, Yale, Brown, University of Pennsylvania and Princeton, has put the world at his fingertips.
"I think Harvard has a slight edge, but I'm still trying to decide," Avery said during a recent interview with Fox News.
Avery has also been offered full scholarships at George Washington University and Howard University, and when asked the secret to what might be described as his astounding academic success, he said it has a lot to do with hard work and determination.
"If you come here [to Banneker] and you know exactly what you want to do, and have the determination to do the work, you will be successful.
Protecting the Anacostia
Residents living near the Anacostia River shouldn't be alarmed if they see students stomping around in the vicinity of the river.
That's because the Whittier Education Campus in Northwest, is partnering with the Anacostia Watershed Society to start a River Habitat project that enables students to learn about natural habitats and animals.
The program includes in-class instruction, a field study by the river, and an outdoor-conservation activity.
LCM Principal: 'Everyone's Here for a Reason'
Azalia Speight, principal at Luke C. Moore Academy in Northeast for the past five years, talked about a place where acceptance and tolerance is the norm.
"We changed the perception of what it means to be an alternative school. We changed it from alternative to second chance," Speight said in an interview on the District of Columbia Public Schools website.
"This isn't the school for the bad kids or the ones who couldn't make it. This is a school for anyone who needs a second chance or a different environment. It's for anyone who wants to be nurtured and loved while they're being challenged and instructed," she said of the school which enrolls just over 300 students. Many are older students, who have returned to school for their diploma.
"We have A+ students who choose to be here," said Speight. "… they're comfortable here because they're accepted regardless of what they look like or what they've done."
Speight added that she's never had a student who has said they dislike the school.
"They don't have to worry about being made fun of or bullied," she said. "Here, they respect who you are and what you bring to the table. Everyone who comes here, comes here for a reason."
School Hiring Events
The public schools system is hosting a series of hiring events open to all current Washington Teachers' Union members beginning Tuesday, May 20.
Other hiring fairs will be held on May 29, June 7, June 25, July 10 and July 21 with the locations to be announced at a later date. For more information, please contact: dcpscareers@dc.gov