Bowser Pushes to Outlaw Revenge Porn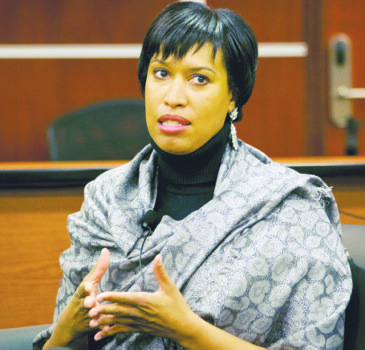 D.C. Council member Muriel Bowser (D-Ward 4) introduced legislation Tuesday that would make the intentional and malicious distribution of sexually explicit images or video without consent, commonly known as "revenge porn," a criminal offense.
"Revenge porn is the kind of abhorrent behavior on the Internet that we must do all we can to stop," Bowser said. "Protecting our residents from serious harm and maintaining their privacy on the web is an important priority of mine."
A number of professional athletes, most prominently Miami Heat center Greg Oden, have been victimized in such a manner by ex-lovers or disconnected friends. However, people from all walks of life have been embarrassed by images of themselves in various states of undress that were posted online unbeknownst to them.
Bowser, who is the Democratic candidate for mayor in the Nov. 4 general election, is the chief sponsor of the bill, which would make the act a misdemeanor offense punishable by up to one year in prison and a fine of up to $2,500. The legislation would also create a new felony crime punishable up to five years in prison and a fine up to $12,500 for third parties that knowingly distribute such material.
"This bill provides significant penalties that we hope will deter this offensive practice," the council member said. "I look forward to working with my colleagues for its swift passage."
New Jersey and California already have similar laws on the books.