D.C. Political Roundup: Democrats Hold Unity Breakfast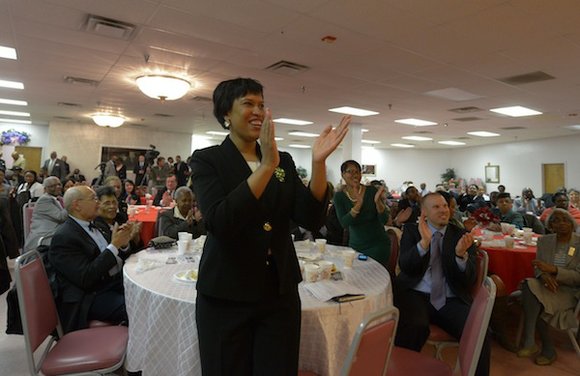 District of Columbia Democrats hosted a Unity Breakfast on April 4 to heal the party after a bruising April 1 primary that had the mayor and a veteran council member who represented Ward 1 for more than a decade lose their seats.
The event, held at Matthews Memorial Baptist Church in Southeast, had 200 people in attendance with supporters from the camps of mayoral primary victor Muriel Bowser and the defeated incumbent, Mayor Vincent Gray. Gray praised Bowser for her campaign and told the crowd that electing her opponent – D.C. Council member David Catania (I-At Large) – in the Nov. 4 general election wouldn't be a good idea.
"He [Catania] wanted to move students from Spingarn to Phelps and I said 'really'", the mayor said, referring to a briefing on the District's budget that he held for council members on April 3. "I don't know why we have to continue to tolerate that type of attitude. Let's unite as a party and move forward."
Gray suggested that Democrats fight a Home Rule mandate that two of the at-large seats on the D.C. Council must go to non-Democrats. However, D.C. Del. Eleanor Holmes Norton (D) dismissed Catania and commended Bowser.
"It will be over for David Catania in November," Norton, 76, said to cheers. "We should not turn down the chance to put a good woman in the mayor's chair in a generation. As Democrats, we have no enemies and no opponents among each other now."
Former D.C. mayoral candidates Vincent Orange, Tommy Wells, Reta Jo Lewis, Jack Evans and Andy Shallal praised Bowser and urged Democrats to support her in the general election. D.C. Council winners Brianne Nadeau (D-Ward 1) and Charles Allen (D-Ward 6) also addressed the crowd.
D.C. Council member Marion Barry (D-Ward 8), who endorsed Gray, said that it's time for Democrats to come together to win in November.
We [Democrats] fight like cats and dogs," Barry, a former four-term mayor said. "When it's over, it's over."


Pannell Proposes Mail-In Election
Philip Pannell, a well-known political and civic activist in Ward 8, believes the best way to conduct the July 15 special election for the vacated D.C. State Board of Education seat in Ward 8 should be to mail-in ballots as opposed to residents voting at polling places.
"In light of the recent election [the April 1 primary] and the rock bottom, low turnout we cannot have a special election with just 17 precincts and the polls being open for 13 hours," said Pannell, 63.
"We should vote by mail as a demonstration project to show that it can be done successfully in the District. A high voter turnout should not be expected for an election in the middle of July."
Pannell is a candidate for the board of education position and has picked up his petitions to get on the ballot.
Pannell envisions ballots being mailed to each registered Ward 8 voter and the voter will have the responsibility of mailing the ballot to the District of Columbia Board of Elections office in Northwest. He said that there should be a few open polling precincts available to those who want to vote in the traditional manner.
The primary reason that mailing in ballots for the July election would work has to deal with costs, Pannell said.
"It is estimated that a special election could cost from $300,000 to $500, 000," Pannell said. "That money for the election could be better spent on substance abuse treatment."
Pannell pointed out that Oregon conducts its elections largely on mail-in ballots and that one-third of Californians vote that way.
However, Tamara Robinson, the spokeswoman for the elections board, said it's likely that voting will take place primarily at polling places with the option of mailing in ballots.
There's a proposal floating around that Pannell doesn't like. There is talk of introducing emergency legislation in the D.C. Council that would hold the election on Nov. 4, the date of the general election.
"That is not good because the residents of Ward 8 will not have representation on the board of education until the end of the year," he said.