EDITORIAL: Henderson Deserves the Chance to Carry On
4/9/2014, 3 p.m.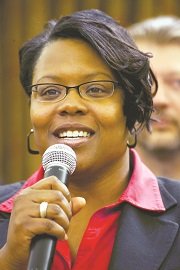 The day after the April 1 Democratic primary, D.C. Schools Chancellor Kaya Henderson quickly gathered her staff at the Central Office to assure them that despite the fact that Mayor Gray's term will expire in November, nothing has changed. "We're still building a world-class education system for children in D.C., and so we're going to keep doing that," Henderson 43, was quoted as saying.
The chancellor, who was a protégé of hard-nosed school reform czar Michelle Rhee, anticipates remaining in the lead role of the 45,000 student district for at least another three years — time enough to accomplish pivotal objectives outlined in her 5-year education plan that was unveiled to an extremely receptive audience in 2012.
When Gray took office in 2010, some predicted the transition would be disastrous for DCPS, but Henderson accepted Gray's invitation to stay, and her achievements have resulted in overall gains for students. The two pressed for increased funding for programs and services benefiting children attending the city's 111 schools. They also laid the foundation for children as young as 3 and 4 years old to begin school. Efforts have also been made to promotes both parental and community engagement and support.
Henderson has been a relentless advocate for improving teacher quality and she has been the force behind some of the largest testing gains in the country. She also has taken on the enormous task of filling the achievement gap among DCPS's African American, Hispanic, Asian and white students; and she strives to get students excited about learning and to improve their satisfaction with the schools they attend.
Still, Henderson struggles with low graduation and high truancy rates. And, when she closed 15 schools in early 2013 in mostly disadvantaged neighborhoods, many called for her resignation, including the former president of the Capitol Hill Cluster School PTA. But Henderson has shown herself to be tough-skinned — one of the great markings of a good leader.
Henderson has put forth an agenda that's been working and, unless someone else can step to the plate with far better offerings, at the very least deserves the opportunity to continue carrying out initiatives that are bringing our schools up to par — and putting them on course to compete among the best in the nation.
As she often states, there's still so much work to be done.