Geriatric Doctor Wants ERs to Face the Holistic Music, But It's Not Everyone (Part I)
Jennifer Margulis, Special to the Informer from New America Media | 4/9/2014, 3 p.m.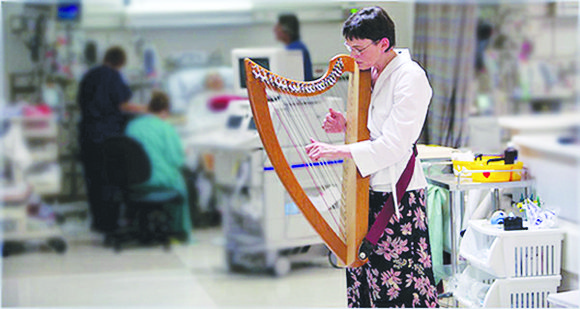 A few days after Heath Belden roasted a chicken for the first time in his life, he fell violently ill. Throwing up every few minutes, he couldn't even hold water. The then 37-year-old stage manager for the Oregon Shakespeare Festival ended up in the emergency room (ER) at Ashland Community Hospital where doctors put an IV in his arm to rehydrate him.
Although that was four years ago, Belden and his family have spent a lot of time at Ashland's ER: His wife Melissa Malm, 45, was treated there for what she thinks was a kidney stone, his 85-year-old mother-in-law has been there three times in the last three years—for impacted stool, a thorn in her foot, and cellulitis—and Belden's daughter Naomi, age 7, had to have 16 stitches after a trapeze slammed into her forehead during Circus Camp.
Belden, a quiet man with brown hair and a closely trimmed beard, felt he was treated with respect and kindness at the hospital. Naomi, who walks shyly in the door from her tumbling class, had a good experience too. She got chocolate pudding and animal crackers.
But when Jessica VanDerslice, a 24-year-old single mom who runs two businesses out of her home, started hemorrhaging after a miscarriage recently she had a very different experience at the bigger Providence Medford Medical Center in Medford, Ore. Even though her doctor sent her immediately to the ER for an urgent D&C procedure, VanDerslice sat in the waiting room for over an hour. The ER staff was unable to locate her paperwork or reach her doctor for instructions.
"They finally admitted me after I bled all over their bathroom," VanDerslice explains in an e-mail. "I sat in the room for seven hours while the nurses pulled blood and ran tests that had already been done that day by that hospital."
The doctor who was supposed to perform surgery stalked angrily out of the room—he was furious because the nurses had given VanDerslice water, which was counter-indicated for surgery. A nurse came back later to apologize for his behavior, but VanDerslice, already devastated by the miscarriage, felt belittled and ignored. "I couldn't believe the miscommunications and unprofessional attitude I experienced this time."
Many have had similar experiences: a high level of personalized care at a smaller community-oriented hospital, but a much lower level of care at bigger hospitals where staff can barely keep up with the arriving patients.
One Doctor on a Mission
Now one doctor in New Jersey is trying to change that. Mark Rosenberg, is a well-spoken man with a confident demeanor who has a lot of titles after his name. His mission? To improve communication, integrate holistic health techniques into the emergency room, and provide personalized community-like care at even the country's busiest emergency rooms.
At 61, Rosenberg, and Osteopathic physician, has been practicing medicine for over 30 years. An emergency room doctor, he is the chief of both palliative and geriatric emergency medicine for the St. Joseph's Healthcare System in Paterson, N.J. He is also the chair of the department of emergency medicine, which had 156,000 visits in 2013.