Interfaith Golf Tournament Officials Battle Hunger
Fifth Annual Event to Raise Funds for Food Bank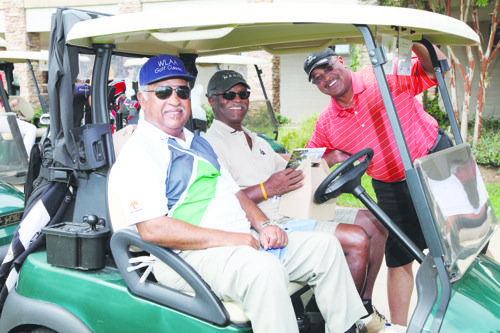 Several area ministers, many who enjoy the game of golf, are hoping to score a hole-in-one for hunger.
The fifth annual Interfaith Golf Tournament, which officials said counts as a campaign to bring together area churches and organizations to support the work of the Capital Area Food Bank, will be held on Monday, April 21, at Westfield's Golf Club in Clifton, Va.
"This began when my wife and I were watching a news program about food banks and how people in the middle class were now leaning upon food banks for help and how food banks were no longer able to handle the demand," said Lou Phillips, the tournament's founder, who lives in Falls Church, Va.
Phillips said the news program followed the plight of an African-American woman who stood in a line at a food bank in Connecticut. "It showed how difficult a time she was having," Phillips said.
"She had no other choice. All of her money went to her mortgage … there was just a carton of milk in the refrigerator and two or three cans of food in her pantry."
The broadcast provided Phillips the impetus needed to jump start efforts to help those in need locally.

Led by a cadre of former executives whom Phillips said are dedicated to strengthening relationships within the faith-based community and corporate America, the golf tournament's goal is to raise resources for those who are suffering from food insecurity.
Phillips, the president of D.C.-based Ethnomediagroup, Inc., joined Earl Riggs, president of ESR Enterprises and Calvin Brown of CBrown & Associates, in taking the lead in planning the annual event.
While Riggs, a professional golf tournament planner who coordinates similar events around the country to benefit major charities, retired from RJR Nabisco Company in New York, Brown once served as a director for the Internal Revenue Service in Northwest.
"These individuals, along with a host of professional and community volunteers, constitute a committed base of individuals who will support the current and future mission of this event," Phillips said.
Each year, a minimum of 40 golfers are brought together in competition for a regional championship cup.
Teams are matched in such a way as to foster inter-denominational fellowship while engaging the churches in supporting the work of the Capital Area Food Bank in Northeast, organizers said.
Additionally, Greg Ten Eyck the director of public affairs for the Eastern Division of Safeway and a member of the Board of the Capital Area Food Bank who served as an honorary chair in 2012, will again participate in the event, Phillips said.
Ten Eyck's position has provided numerous opportunities for service in organizations that are primarily focused on improving the conditions of individual lives as well as the community at-large, tournament officials said.
Ten Eyck has also secured corporate representation for the event from Safeway in the form of gift coupons which will provide much needed food to a select number of local families, and, Safeway has sponsored clients who will compete to win the competition's regional cup, officials said.