Kevin Ollie Makes History as 4th African-American Coach to Win NCAA Tournament
4/9/2014, 3 p.m.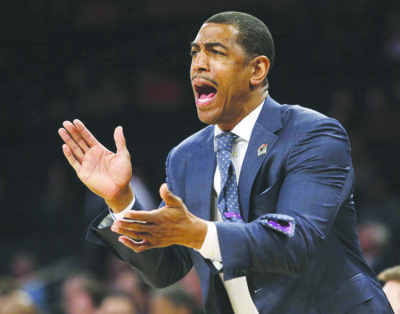 Kevin Ollie, head coach of the University of Connecticut men's basketball team, has pulled off a remarkable feat, becoming just the fourth African-American coach to win the NCAA tournament.
On April 5, the Huskies defeated top-ranked Florida in the first Final Four national semifinal of the NCAA Tournament 63-53. The Huskies defeated the Kentucky Wildcats 60-54 in the NCAA National Championship on April 7. He joins Tubby Smith who won the NCAA Tournament in 1998 with Kentucky, Nolan Richardson who won in 1994 with Arkansas, and John Thompson who won in 1984 with Georgetown.
In two seasons at his alma mater, Ollie navigated UConn through a one-year postseason ban, proved to reticent fans and administrators he deserved the full-time job and made the team his own, far removed from his former mentor Jim Calhoun. In the process, he led the seventh-seeded Huskies on an improbable title run.
"I'm just trying to keep proving everyone wrong. Everyone said our program was going to go down after the sanctions and people left, but we're still here. Somebody the other day called us a Cinderella. We're UConn. UConn is always going to stay here," Ollie told reporters following the tournament.
Those close to Ollie credit his wife, Stephanie, with reinforcing the quiet and confidence he needed to push both himself and the team to win the championship. CBS News reported that while in debates about taking the job, the Ollies spent a few days trying to determine if his nearly 15 years in the NBA, in 11 cities, while his family was mostly nestled in Glastonbury, should come to an official end.
"Being on the road, kids at home, we had some discussions," she said. "Will it be worth it?" she said.
As the Huskies celebrate their victory, the answer is a resounding 'yes.'
"Those players that were up here, they should get all the attention because if it wasn't for them, this program wouldn't be here. They believed in a vision before anyone had seen it. They stuck with it through the down times when we were losing," Ollie said.