Local Organization Honored for Work on Center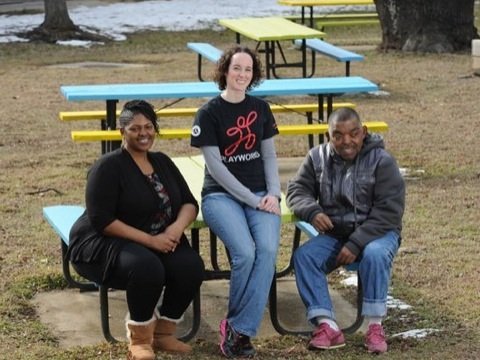 To put it simply, it's not always about the work that gets done, but its how you play.
With that elementary explanation, USA Today Weekend reported that Playworks, a nonprofit organization in Southeast, has been selected as a recipient of its annual "Make A Difference Day" campaign.
"I received a telephone call from a reporter at USA Today and it turned out to be so exciting," said Alison Vaux-Bjerke, the program director at Playworks, which provides children with opportunities for safe, meaningful play.
"After we finished the project that won recognition by USA Today, we were told we had also registered with Make A Difference Day and that we could win $10,000," Vaux-Bjerke said. "I had forgotten about it, but I thought it was a long shot that we'd win."
That long shot has become a reality for Playworks, an organization which aims to ensure children feel safe and included on playgrounds.
Playworks officials ensure that games on playgrounds are safe and organized and any child is welcome and able to play in any event.
In partnership with area teachers, principals and parents, Playworks builds a culture of play that enables children to feel a sense of belonging and have the opportunity to contribute on the playground, in the classroom and in their communities, organization officials said.
Playworks and 10 other national honorees will be recognized Thursday at the Make A Difference Day luncheon, which will take place at the National Museum of Women in the Arts in Northwest.
The noon ceremony will include special guests Matt Lauer and Savannah Guthrie of NBC's "Today" show.
Among those who'll be honored include a Weirton, W.Va., group that came together to help local food pantries; the University of Arkansas' Volunteer Action Center which works with more than 40 nonprofit organizations, schools and parks to develop area service projects; a California teenager who assembled Lego kits for children in troubled situations; and a group of students in a problem Florida community who performed service projects to demonstrate hope.
Locally, Vaux-Bjerke, a graduate of George Washington University in Northwest, said she became familiar with the D.C. Center for Therapeutic Recreation in Southeast through her job at Playworks.
The center, which provides services for children, seniors and those with special needs, needed a makeover, Vaux-Bjerke said.
"We wanted to do something local for our D.C. community that really affected people of varying abilities," she said.
Thus, Playworks put out a call for volunteers to help give the center a facelift on Make A Difference Day.
"We repainted benches, we did a bunch of gardening outside and most of our interaction with them was organizing and recycling," Vaux-Bjerke said. "We cleaned out and organized their library and we were able to create storage bins."
Officials at the center said they were amazed at the transformation.
"[Everyone] talked about it for days after," said Priscilla Jones, a recreation therapist at the center. "It was an awesome day. We don't experience that too often."
USA Today Weekend also took notice and decided to honor the volunteer effort.
For nearly two decades, USA Today Weekend and Points of Light, a national nonprofit with an office in Northwest that promotes the creation of healthy communities in vibrant societies, have joined together to sponsor Make A Difference Day, the largest national day of community service.
Thousands of projects are planned each year involving corporations, nonprofits, entire states and individuals.
The Connecticut-based Newman's Own, Inc., a premium food business founded by legendary late actor Paul Newman, supports Make A Difference Day by awarding $10,000 to the charities of each of the honorees.
"We all have the responsibility to each other to build each other up and to help make the world the best place it can be," Vaux-Bjerke said. "One way we can do that is service and working together."