Local Spelling Bee Champ Heads to Nationals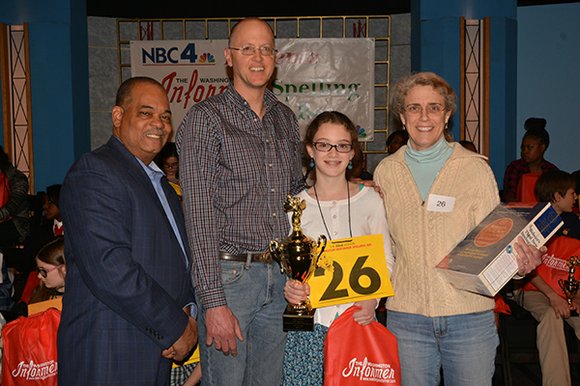 A middle school student has her sights set on a national competition after snatching victory away from the District's best and brightest spellers last month.
Greer Marshall secured a first place spot at the 32nd annual Washington Informer Spelling Bee on March 22 at NBC4 Studios in Northwest after correctly spelling "revelatory." She will compete against hundreds of elementary and middle school students in the Scripps National Spelling Bee during the Memorial Day weekend.
"I was really surprised because I didn't think that I would make it this far," said Greer, 11, a sixth grader who attends Alice Deal Middle School in Northwest. "I don't know what will happen in the national competition but [spelling's] fun so I will try my hardest and study a lot," said Greer, who lives in Northwest with her family.
Greer's recent success followed a similar triumph at last year's DC3 Spelling Bee. As a fifth grader, she represented Janney Elementary School in Northwest and bested students from other member schools in the DC Collaborative for Change, a partnership between nine D.C. elementary schools and education centers.
In preparation for the Informer Spelling Bee, she participated in weekly sessions with the Deal Spelling Club and practiced spelling a variety of words with her father before going to bed in the evenings.
"We always let her take the lead on the preparation," said Tom Marshall, 53, Greer's father. "She always liked when I quizzed her. She has [a strong grasp] of root words and really benefitted from the dedicated teachers and enrichment programs in D.C. Public Schools. The Informer Spelling Bee has also contributed to her enthusiasm for the English language. We're waiting for the [word] list for the national competition. [The anticipation] makes studying exciting," said Marshall, a lawyer for the federal government.
Michael Gueltig, faculty head of the Deal Spelling Club, said that Greer often exhibited her natural spelling ability during the practice sessions. Now that the sixth grader has reached an important milestone, he wants to prepare her for the quickly approaching national competition after she returns from Spring Break.
"As a teacher, it's exciting to work with a student with so much talent, "said Gueltig, 33,who has taught sixth-grade English at Deal Middle School for five years. "As we go into the national competition, we will hone in on certain skills and review spelling strategies. Greer's competing with students between the 4th and 8th grades. I don't like to put pressure on her. She knows that if she gets through the nerves of the first round, she will do very well," said Gueltig, an Alexandria, Va. resident.
Greer's parents often read to her as a toddler and took her along on trips to libraries and book stores, where she selected children's novels to add to her own home library. Two years ago, she joined a book club with her mother where she read books that included "Wonder," "The Higher Power of Lucky," and "The Bridge to Terabithia."
Now that Greer's book collection numbers in the hundreds, she chooses to read from her Kindle tablet during family road trips.
"We were [taken by surprise] by this win because [she competed against] children that have been competing for years," said Mary O'Lone, 49, Greer's mother. "We always encourage her to read. She has already seen most of the words in the books she has read so she was not very intimidated by spelling," said O'Lone, a federal government attorney.
The bespeckled youngster expressed her excitement about competing at the Gaylord National Resort and Convention Center in National Harbor, Md. next month.
"No matter the reason for joining spelling bees, they're fun," said Greer. "I will try my hand at the spelling bee next year, no matter how the national competition turns out."