Nas, Dyson Talk About the State of Hip-Hop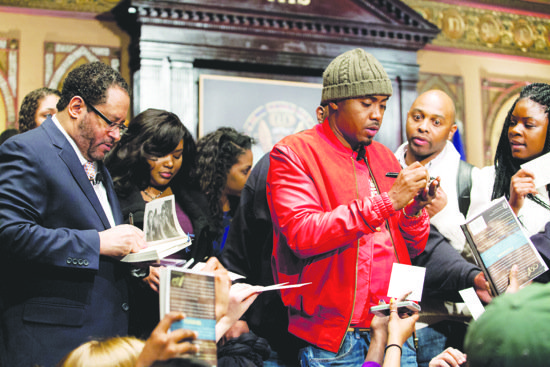 An iconic hip-hop artist did not mince words when he discussed the current state of the genre during an event at a local university the latter part of March.
Nas challenged his colleagues in the hip-hop industry to create more socially conscious material during a gathering he headlined at Georgetown University (GU) in Northwest with social academic, author, and GU professor Michael Eric Dyson.
"I don't see enough emcees that are brave enough to be honest," said Nas, 40. "[Rappers] still have some artistic responsibility. Imagine me trying to get into the rap game at 19. I had to do something that mattered. Right now it's much easier. There are more poor kids making money but I do want people to remember that it's an art form."
The March 27 event at GU's Gaston Hall attracted more than 700 people and took place one day before Nas celebrated the 20th anniversary of his debut album Illmatic and performed before a sold-out audience at the John F. Kennedy Center for the Performing Arts in Northwest. James Peterson, director of Africana Studies and associate professor of English at Lehigh University in Bethlehem, Pa. moderated the two-hour discussion. Hip-hop artist and producer 9th Wonder kept guests' heads bobbing as he spun Nas' classic records on turntables throughout the night.
"Nas uses his platform to articulate visions and understandings of the world with such poetic passion," said Dyson, 55, author of Born to Use Mics: Reading Nas's Illmatic. "[Nowadays], a guy with a Ph.D. from Princeton University and the University of Pennsylvania are discussing his music. Teaching hip-hop is about excavating in the common earth of our social existence while engaging with literacy. These artists have something original to say."
Since dropping Illmatic in 1994, Nas, born Nasir Jones, went on to release 12 more solo and compilation albums, including Distant Relatives, a 2010 collaboration with Jamaican reggae artist Damien Marley. All of Nas' releases have been certified double-platinum, platinum, and gold. He has sold more than 20 million records worldwide to date. His most popular songs include "N.Y. State of Mind," "One Mic," "I Know I Can," and "If I Ruled the World."
In an industry that often favors newer, younger acts, Nas has managed to remain popular. While hip-hop mogul Jay Z, a contemporary of the Queens, N.Y. artist, went on to amass hundreds of millions of dollars in record sales with a host of catchy, crossover hits and business ventures, Nas stayed the course, consistently delivering witty, thought-provoking material that advised listeners to challenge the status quo. His 2012 album Life is Good received a Grammy nomination and featured "Daughters", a song about his daughter Destiny Jones.
Longtime Nas fan Auset Sherrill attended the event with her teenage son. She said she respected the hip-hop artist's commitment to creating positive, uplifting music at a time when music labels give higher priority to album sales than quality of lyrics.
"I looked forward to hearing what Nas had to say," said Sherrill, 40. "I feel like he has been a brother to me. It's been awesome to see him evolve as an artist. [The fact that] he stays true to his message is phenomenal. He represents the African Diaspora well. Life is busy but I always find time to listen to some of his tracks," said Sherrill who lives in Mt. Rainier, Md.