P.G. County Schools Briefs: New Immunization Requirements for 2014-15
4/9/2014, 3 p.m.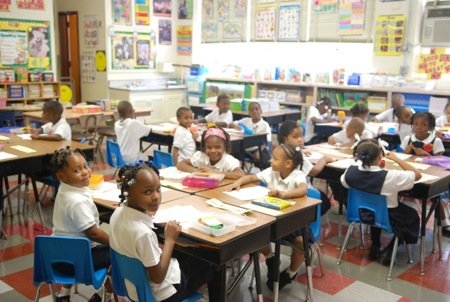 Immunization requirements in the state of Maryland for the 2014-15 school year for students entering kindergarten and grade 7 have changed.
As a result, all Prince George's County public school students enrolling in kindergarten must receive two doses of the Varicella (chicken pox) vaccine.
All students who will be enrolling in the 7th grade are required to receive a single dose of the TDaP (Tetanus, Diphtheria and Pertussis) vaccine and a single dose of the meningococcal (meningitis) vaccine.
Parents have 20 days after the start of the 2014-15 school year to present medical verification that their children have received the required vaccinations. If documentation is not presented, they will not be allowed back in school until the required records have been provided.
Parents are asked to contact their child's physician to ensure that immunizations are current for the new school year. Families without health insurance may contact the Prince George's County Health Department Immunization Clinic at 301-583-3386.
Questions about the immunization requirements can be obtained by contacting the school nurse or the schools' Health Services at 301-749-4722.
2014 Strategic Plan Survey Results
CEO Kevin Maxwell and other school officials extend gratitude to participants of the Strategic Plan Survey, and are using the results to guide them in the next developmental phase of the Strategic Plan.
Both internal and external studies were conducted from Jan. 28 to March 12, and among the list of quick facts surrounding the findings are that 78 percent of respondents were school-based employees, parents, and parents of non-county students.
School personnel who responded included executives, board members, principals, teachers, students and central office staff, while partner respondents included local government staff, business and industry partners, university/college staff, both county and non-county parents, and civic/community leaders.
In addition, more than 3,000 additional comments are being analyzed.
Findings of the response summary include that the most significant challenge over the next three years revolve around hiring and retention of quality staff. The responses also revealed that the most important keys to student success involves a mastery of reading and communication skills.
Wirt Middle School goes for the Gold in Houston
Members of the William Wirt Middle School C-STEM Challenge Team in Riverdale, Md., will travel to Houston, Texas, where they'll compete April 25-26 in the International C-STEM Challenge.
The C-STEM Challenge is a competition that engages students in multi-age groups to collaboratively solve six challenges that are designed by industry professionals and national standards.
Students will compete in the categories of robotics, geoscience, creative writing, photography, sculpture, film, and mural.

William Wirt Middle has developed quite the winning streak in competing in the C-STEM Challenge, with students having previously placed high in the competition. While the school has had first and second place wins in all previous competing categories, its mural team has placed first for the past three years in a row.