Pressure Mounts for Higher Federal Minimum Wage
Freddie Allen, Special to The Informer from NNPA | 4/9/2014, 3 p.m.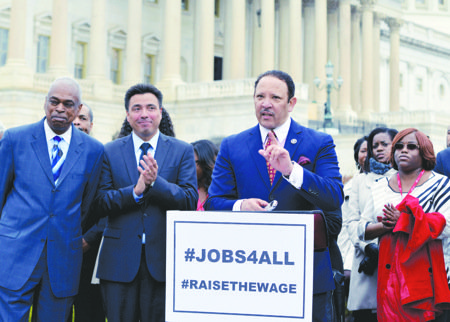 Civil rights groups, labor organizer and their allies are stepping up pressure on Congress to pass legislation raising the minimum wage to $10.10 per hour by 2016.
During a press conference on Capitol Hill last week, Marc H. Morial, president and CEO of the National Urban League, said that in the 1930s, when President Franklin Delano Roosevelt envisioned the idea for a minimum wage, it was about respect for American families, workers and children.
By that measurement, respect for American workers peaked in 1968. According to the Economic Policy Institute, a Washington, D.C.-based think tank, the value of minimum wage is worth 23 percent less than it was nearly 50 years ago.
"If the minimum wage had kept pace with inflation that wage would now be over $10 an hour. If the minimum wage had kept pace with the very important principle of worker productivity, that wage would be over $20 an hour. If that wage had kept pace with the growth and the income of the top 1 percent that wage would be nearly $30 per hour," said Morial.
Morial announced that the National Urban League would accelerate its advocacy in support of an increase in a minimum wage, during the same week of the groups' 11th annual Legislative Policy Conference.
When Rep. Keith Ellison (D-Minn.) joined the press conference he didn't mince words.
"The people need a raise," exclaimed Ellison. "The people got to get paid!"
According to a report by the University of California-Berkeley Center for Labor Research and Education and the University of Illinois at Urbana-Champaign Department of Urban and Regional Planning and Funding, nearly a quarter (23 percent) of front-line fast food workers are black.
"Even at 40 hours a week, however, more than half (52 percent) of front-line fast-food workers' families participate in public programs," the report stated.
Billion-dollar retailer Wal-Mart continues to make profits for its shareholders while paying its workers low-wages, pushing some into public assistance programs such as Medicaid.
"We're sick of subsidizing these big corporations; because they pay our people so little that Uncle Sam has to make it up in food stamps and health care," said Ellison. "Let them pay their own freight."
On a conference call on the minimum wage coordinated by the AFL-CIO, Elise Gould, director of health policy research at the Economic Policy Institute, said that increasing the minimum wage to $10.10 per hour by 2016 would be quite modest compared to inflation and wage growth and paltry compared to gains in productivity. Gould also sought to dispel the myth that most low-wage workers are young and uneducated.
"The United States low-wage workforce is far more educated than they were 40 years ago, yet their wages do not reflect these changes," said Gould.
The Center for Economic and Policy Research found that the average age of low-wage workers is 35 and less than 15 percent of low-wage workers are teenagers. Nearly one-third of low-wage workers have some college experience and about 10 percent have earned a four-year degree.