HHS Secretary Sebelius Stepping Down
WI Web Staff | 4/10/2014, 6:38 p.m. | Updated on 4/10/2014, 7 p.m.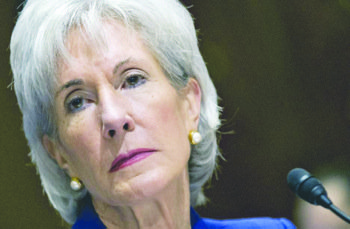 Kathleen Sebelius, the embattled head of Health and Human Services who oversaw the turbulent launch of the federal enrollment website for President Obama's signature health care law, is resigning, the Associated Press reported Thursday afternoon.
Sebelius' job performance has been under intense scrutiny — mainly from GOP members of Congress — since the October rollout of Obama's Affordable Care Act, when well-documented glitches with the government portal, heathcare.gov, noticeably hindered the progress of the controversial law.
Though the Obama administration said they ultimately exceeded their goal of 7 million sign-ups by the March 31 deadline, the website's problems initially forced officials to scale back enrollment projections, earning Sebelius the ire of the law's opponents.
The administration said problems with the website have largely been rectified and that the site's error rate is less than 0.5 percent, with an average response time of less than half a second.
Sebelius, a Democrat, was the governor of Kansas before being appointed by Obama as HHS secretary in 2009.