Obama Lauds LBJ on 50th Anniversary of Civil Rights Act
WI Web Staff | 4/10/2014, 4 p.m.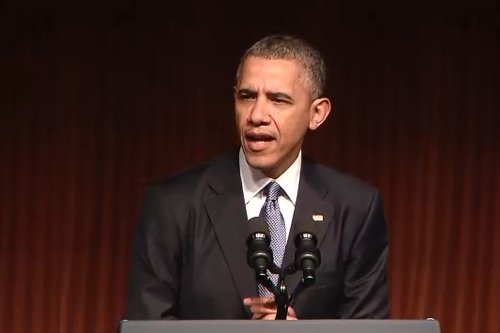 President Obama lauded Lyndon Johnson on Thursday during a celebration of the 50th anniversary of the Civil Rights Act of 1964, saying the former president's landmark law opened many doors for African-Americans and paved the way for his own presidency.
"As we commemorate the 50th anniversary of the Civil Rights Act, we honor the men and women who made it possible," Obama said in his keynote speech during a summit at the Johnson presidential library in Austin, Texas. "We also gather here, deep in the heart of the state that shaped him, to recall one giant man's remarkable efforts to make real the promise of our founding: 'We hold these truths to be self-evident, that all men are created equal.'"
Time has been kind to the historical view of Johnson's presidency, which had long been clouded by his role in the Vietnam War during his term. As years have passed, he has been increasingly heralded for his work in the fight for civil rights, including the Voting Rights Act that he signed into law.
"Because of the Civil Rights movement, because of the laws President Johnson signed, new doors of opportunity and education swung open for everybody — not all at once, but they swung open," Obama said. "Not just blacks and whites, but also women and Latinos; and Asians and Native Americans; and gay Americans and Americans with a disability. They swung open for you, and they swung open for me. And that's why I'm standing here today — because of those efforts, because of that legacy."
Obama also praised other prominent figures that were vital in the battle for civil rights and getting the law passed, including Georgia Rep. John Lewis, who introduced Obama at the summit.
"We recall the countless unheralded Americans, black and white, students and scholars, preachers and housekeepers — whose names are etched not on monuments, but in the hearts of their loved ones, and in the fabric of the country they helped to change."