Cherry Blossom Queen Recalls Her Coronation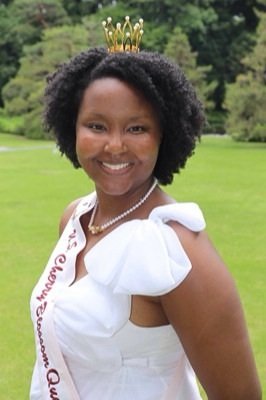 It may have been a stunning turn of events for most at the National Cherry Blossom Festival, but in 1970 when a 20-year-old District resident became the first black princess, many around the country took note.
The young woman, Linda Smythe, an electrocardiograph technician at George Washington University Hospital in Northwest who a year earlier had been crowned Miss Washington, D.C., already had put the country on notice that beauty and other pageants were long overdue for a change.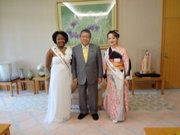 "Smythe is a young woman who has wrestled with that problem of identity and has emerged black and proud," editors at Ebony Magazine wrote shortly after Smythe's selection as a festival princess.
Some 42 years after Smythe's selection as princess, Taylor Barfield became the annual spring festival's first African-American queen.
"The princess program has been around since 1948 and there's never been a wealth of African Americans in the program," said Barfield, 20, of Bowie, Md., who reigned as the queen of the festival's parade in 2012.
"You may get six or seven African Americans out of 55 [princesses] each year. [There's] not a huge chance that an African American would win," she said.
The chances are all the more slim when considering that selecting the queen literally means that the Japanese ambassador at the festival spins a wheel, similar to Wheel of Fortune, and the state the arrow lands on, the young lady representing that state is honored as queen.
Barfield, who studies communications at Bowie State University, also serves as president of the Maryland State Society of Washington, D.C., a social and civic organization that celebrates the culture, history, traditions, and people of Maryland through events such as presidential inaugurals, congressional receptions and the National Cherry Blossom Festival.
"This is not a real pageant, but each person must submit a package to their state society and their selection as a princess is based on their community involvement, interests, and their good standing [in] school," said Teresa Downs, of the National Conference of State Societies in Gaithersburg, Md., and the first vice president and festival chairperson.
"The princesses participate in various events, visit the various embassies, take part in the congressional reception for the festival, read to children and they do service work," Downs said.
The Cherry Blossom Princess Program began in 1948 and includes women from each state, territory and the international embassy community.
More than 3,000 young women have participated in the program and have been named a princess for the annual festival.
Officials could not determine how many African Americans have been princesses.

One African-American princess, Marneet Lewis of Oregon, has parlayed her success at the National Cherry Blossom Festival by winning several beauty pageants, including reigning as the 2014 Miss Earth Oregon.
"I'm blessed to serve as Miss Earth Oregon," said Lewis, 23, who once worked as an intern in the late Sen. Ted Kennedy's office for the Senate Committee on Health, Education, Labor and Pensions.
"The experience [as a Cherry Blossom Princess] was phenomenal and I had the time of my life in Washington, D.C," Lewis said.