Norton Praises Senators for Pro-District Bills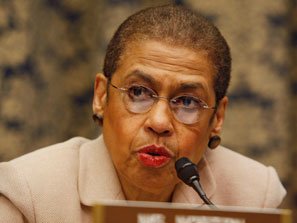 D.C. Delegate Eleanor Holmes Norton (D) commended Sens. Mark Begich (D-Alaska) and Thomas Carper (D-Del.) Thursday for introducing two bills that will strengthen the District's quest for self-government.
Begich, who chairs the subcommittee of the Homeland Security and Government Affairs Committee that deals with the District, introduced companion bills on legislative and budget autonomy in his chamber that mirror Norton's bills in the U.S. House of Representatives.
Legislative autonomy means that the D.C. Council can pass legislation without congressional review and budget autonomy would allow the District government to spend its own taxpayer-generated funds without the approval of Congress.
Carper, who is the chairman of the Homeland Committee, supports Begich's legislation.
"We are grateful that Senator Begich, joined by Senator Carper, has introduced bills that would eliminate two of the great deficiencies in local democracy in the District of Columbia," Norton said. "Senator Begich, a former mayor of Anchorage, showed deep understanding of how impediments in passing local laws and implementing a local budget can wreak havoc on operating a local government when I testified before his subcommittee at hearing on the effects of federal government shutdowns on the District.
"Since becoming chair of the full committee, Senator Carper has used his leadership to significantly advance home rule and democracy in D.C. in important ways," she said.
Norton speculated that Begich's legislative autonomy bill is the first of its kind in the Senate.
Begich said that it is time for the District to manage its operations without congressional interference.
"I have never been shy about tackling federal overreach where I see it," he said. "These bills will bring some much needed common sense to the relationship between Congress and the District government. I am glad to help Congresswoman Norton move forward on the reforms she has championed for so long."