Yvette Alexander Mulls Run for At-Large Council Seat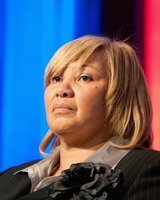 D.C. Council member Yvette Alexander (D-Ward 7) set off a political firestorm earlier this week when she tweeted to a fellow council member that she might run for an at-large seat on the council in the Nov. 4 general election.
But Alexander cleared the air Thursday in an interview with The Informer regarding the possible move.
"I am considering running at-large, but I have not made up my mind yet," Alexander, 52, said.
She also dismissed published reports that she will make a decision by the end of the month.
"I will decide whether to run at the end of May," she told The Informer, adding that she would discuss the possible decision with her supporters in Ward 7, Council member Anita Bonds [who serves as the chairman of the D.C. Democratic State Committee] and my campaign team."
Alexander said that she is considering running for the at-large seat not because she is tired of serving the residents of Ward 7, but because it would offer her a chance to tackle a wider range of challenges facing the city.
"A council member position is a legislative position," she said. "As an at-large member, I can focus on broader issues and broader concerns. As a ward council member, I have to focus on ward-related concerns but I can still have a positive impact on Ward 7 as an at-large member."
She said even though she represents Ward 7, "I have performed constituent services for residents in every ward in the city."
Alexander defeated several candidates in a May 2007 special election for the Ward 7 seat, replacing Vincent Gray, who was elected as council chairman the previous November. She won her first full term in 2008 and was re-elected in 2012.
Alexander acknowledges if she runs in the general election, she'll have to make some major political changes.
"I realize that I will have to leave the Democratic Party and switch to independent," she said, referring to the city's home rule mandate that two of the at-large council seats be reserved for non-Democrats. "Again, I have not made up my mind to do that."