Parade, Concerts and Fireworks Highlight Emancipation Day
Al Sharpton, Dick Gregory, Chuck D, Other Celebs Join District Festivities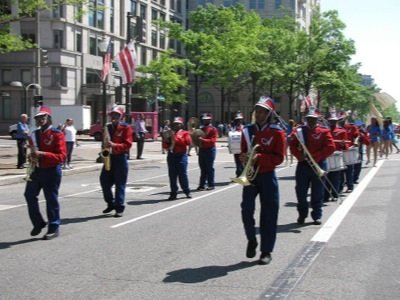 For D.C. Council member Vincent Orange, there's not one day on the calendar this year that's more important than April 16.
"This, D.C. Emancipation Day, is our day, it's our history," said Orange, who's credited with spearheading efforts to revive the holiday in the District after it had gone unnoticed for about two decades.
Emancipation Day has been celebrated with a parade in the District since 1866. Eventually, however, a lack of financial and other support forced an end to the parade in the 1980s, but ultimately restarted in 2002.
In 2004, Orange successfully proposed to make the day a public holiday, and one year later, Emancipation Day was celebrated as an official D.C. holiday.
"The response has been good because the key is consistency," said Orange, 57. "We're now getting great buy-in for the parade and the events and we're keeping it going."
A week of activities, which begins on Sunday, April 13, at the Lincoln Theatre in Northwest, will mark the celebration of the landmark freeing of slaves in the District of Columbia, which took place on April 16, 1862, about nine months before President Abraham Lincoln signed the famous Emancipation Proclamation which declared freedom for all slaves in America.
Celebrities, including hip-hop trailblazers Chuck D, Doug E. Fresh, MC Lyte, and MC Hammer, singers Raheem DeVaughn, Toni Blackman, and others have planned a town hall meeting at the Lincoln Theatre to discuss the emerging social issues within the African-American community.
The annual parade, steps off at 11 a.m. on Wednesday, April 16, with a route along Pennsylvania Avenue to the John A. Wilson Building in Northwest.
Orange said this year's parade will feature large helium balloons with the faces and images of President Barack Obama, fallen civil rights champion Martin Luther King, Jr., Rosa Parks, John F. Kennedy, Nelson Mandela and others who played significant roles in African-American history.
A concert at Freedom Plaza in Northwest will follow the parade and it will include Brian Lenair, Talib Kweli, DeVaughn, Arrested Development and others.
"There's also going to be educational workshops throughout the day on Wednesday at the Wilson Building," Orange said, adding that a fireworks display will also be included in the festivities.
The District of Columbia, which became the nation's capital in 1791, was by 1862, a city of contrasts, Emancipation Day Committee officials said.
D.C. had been a thriving center for slavery and the slave trade, but also a hub of anti-slavery activity among abolitionists of all colors, said author and historian Carroll "C.R." Gibbs.
"Why do you think they were able to lure Solomon Northup [a free black man in the 1800s from New York] to D.C. and trap and enslave him?" said Gibbs, a longtime Southeast resident and D.C. Humanities Council Scholar who founded the African History & Culture Lecture Series where scholars promote African-American culture and history.
"Members of Congress at that time represented states in which slavery was the backbone of the economy, and those in which slavery was illegal," he said.