Parade, Concerts and Fireworks Highlight Emancipation Day
Al Sharpton, Dick Gregory, Chuck D, Other Celebs Join District Festivities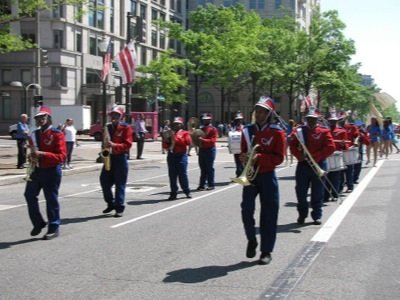 The intense battle over slavery came to an end in the District with the D.C. Emancipation Act of 1862, passed by Congress and signed by Lincoln, Gibbs said, noting that the act ended slavery in D.C. and freed 3,100 slaves and also reimbursed those who had legally owned them.
The act also offered the newly freed slaves money to emigrate.
"It really opened the city up to immigration of thousands of blacks," Gibbs said. "There were so many black folks fleeing slavery in Prince George's County, they were coming across the Navy Yard Bridge into the District."
Patrick Murray, a hospital technician and Northwest resident, said he's thrilled that Orange and other officials have fought to bring back and keep the legacy of Emancipation Day alive in the District.
"When you have a day off from work, or the children have a day off from school, which we get here in D.C. for Emancipation Day, it's only reasonable to consider, perhaps meditate, on why is this day so important," said Murray, 51. "I know I've taught my children the meaning of this day and I'm certainly proud that it's a holiday because it has so much meaning for every black person alive."
In a statement, Mayor Vincent Gray also noted the importance of celebrating Emancipation Day.
"The District of Columbia celebrates each April 16 as Emancipation Day where we commemorate our nation's hard-fought battle for freedom and equal justice under the law," Gray said. "In a modern context, Emancipation Day also provides time to reflect on the District's struggle for budget autonomy and full representation in Congress."
For a list of events, schedules and additional information, visit www.emancipationdc.com. Also,Emancipation Day events, including the parade, will air July 4 as a special one-hour television program on the Centric and WHUT networks.