COMMENTARY: Hats Off to Kevin Ollie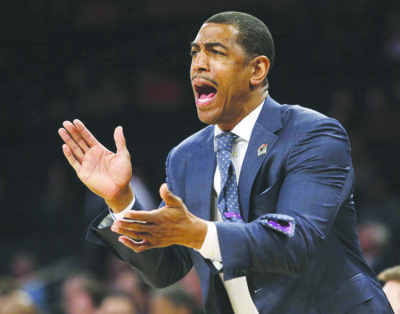 On Dec. 30, the University of Connecticut men's basketball team rolled into Houston feeling quite good about their squad. They were sporting a 13-1 record, with their only defeat being a 53-51 home loss to Stanford. They were about to face a University of Houston team that has struggled over the last few years. Surprisingly, Houston won, 75-71, and the Huskies ended 2013 licking its wounds.
The new year didn't start much better, as SMU handed UConn its second straight loss, 74-65, on Jan. 4 in Dallas. The Connecticut bandwagon had sprung a leak and the team was looking for answers as it tried to regroup.
Enter head coach Kevin Ollie. Fully aware that the 2014 national championship game would be played at the AT&T Stadium in nearby Arlington, he arranged for his team to visit the facility the day after the SMU loss. While he and his players stood in the middle of the arena, he shared with them, in no uncertain terms, that the Huskies would make it to the Final Four and play in the building in which they were standing.
That was a very bold prediction coming from a coach whose team had lost 3 of its past 5 games and had more than half a season remaining. Everyone heard Coach Ollie. How many of them actually believed his prediction was yet to be determined.
Though Connecticut finished the season with a solid 26-7 record, they didn't exactly hit the NCAA tournament as a favorite to win it all. After losing its conference championship game to Louisville, the Huskies entered the tournament as a 7th seed.
As UConn rolled through the tournament with victories over St. Joseph's, Villanova and Iowa State, their confidence grew tremendously and they began to embrace their coach's prediction. Perhaps the UConn coach was clairvoyant after all. The only team that stood in the way was Michigan State, their opponent in the East Regional final.
The rest is history. UConn beat Michigan State, 60-54, sending the Huskies to the Final Four, where it eventually won it all and made Ollie only the fourth black head coach to lead a team to the NCAA title.
Ollie's prediction had come true. And it came as no surprise to those who know him.
Despite being a prized recruit out of high school and an important role player during his four years at Connecticut, he never averaged more than the 9.8 ppg in his senior season and was undrafted by the NBA. And though he persevered and eventually made the league after a brief stint in the CBA, Ollie was largely a journeyman, playing for 12 different teams in 13 years.
However, he was a well-respected locker room presence wherever he went, including Philadelphia, where he was a solid role player for the 76ers' run to the NBA Finals in 2001.
In spite of being undrafted, Ollie never believed he was incapable of playing in the NBA. Through consistent hard work, focus and professionalism, he constantly found his way onto an NBA roster. His strong belief in himself led others, including UConn, to believe in him.
In 2010, Ollie signed on with UConn as an assistant coach under Hall of Fame coach Jim Calhoun, for whom he played at Connecticut. He was named head coach in 2012, motivating his team to a 20-10 record despite the school being ineligible for postseason play due to academic violations from years ago.
In his second season, he led his team to a national championship.
Many basketball analysts believe that under the leadership of Ollie, UConn should be a national power for years to come. I agree. Ollie has done a fantastic job, and there's every reason to believe that the program's best days lie ahead.