Harlem Remembrance Foundation Stages Community March for Literacy in African-American History, Art and Culture
4/14/2014, midnight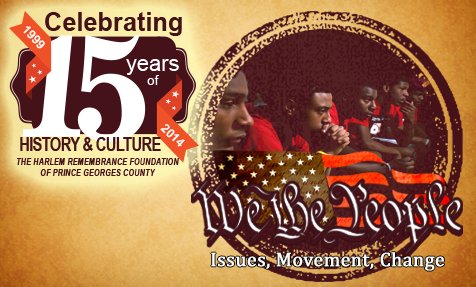 LANHAM, Md. — The Harlem Remembrance Foundation of Prince George's County (HRF) will join with other religious, educational, social, cultural and youth organizations to stage a march on Saturday, May 3 at 9 a.m. to call for increased literacy in African American history and culture in the County.
The march will precede the Harlem Renaissance Festival and begin from the Landover Metro Station and follow the route that leads to the festival grounds at 2411 Pinebrook Road. March organizers are inviting community groups to sign up to participate in the march, particularly youth community organizations.
Since its inception fifteen years ago, the Prince George's Harlem Remembrance Foundation continues to demonstrate its strong commitment to supporting public education, cultural arts and social engagement, with a special focus on the communities inside the beltway where the festival is based. "The Harlem Remembrance Foundation is an active and supportive part of our community, and we continue to make advancement in the community on ways to celebrate and highlight the accomplishments of African Americans in all facets of American life," says Mr. David Harrington, Chairman of the Foundation and Executive Director of the Prince George's Chamber of Commerce. "Our mission was developed out of a need in our community to enrich and enhance the areas of cultural arts, historical awareness, and community unity, which we felt was often glazed over or overlooked totally.
The Harlem Remembrance Foundation plays an important and active role in supporting and encouraging African American history, art and culture. Through this march, the Foundation continues to expand their blueprint for community investment and involvement and has seen success and growth for the past 15 years. The Harlem Remembrance Foundation has generated over $1,500,000.00, mostly in direct contributions for a variety of initiatives in Prince George's County such as: The Annual Harlem Renaissance Festival, The Dubois Business Summit, Harlem Nights, The Golf Classic, and other programming, and volunteer opportunities for individuals and local organizations. The Harlem Remembrance Foundation has been a model in developing innovative ways to engage both fans and artists to support a variety of worthy and necessary causes in the community. The Foundation offers health and educational programs; L.O.V.E Awards for community leadership and its Annual Scholarship to Prince George's County students attending a Historically Black College. All of these programs and activities have all made a positive impact on the Prince George's County community.