Bowser Tenuously Embraced by TENAC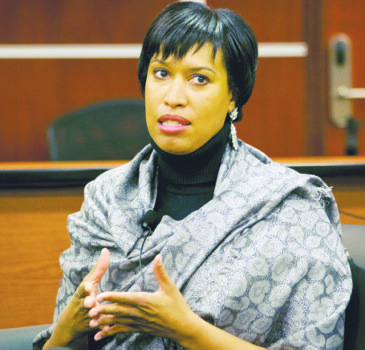 D.C.'s Democratic mayoral candidate Muriel Bowser now has the backing of the city's largest tenant association, but it wants her to focus on the housing concerns of low and middle-income residents.

Jim McGrath, the chairman of TENAC, rattled off a laundry list of issues that he said need Bowser's attention, including the control of development, gentrification, and "unrestrained market forces" in the city that push out the poor.
"Opponents of any such restraint would cheerfully see the entire city converted into an 'instant Georgetown,'" McGrath said. "Becoming 'Hottsville USA' may be fine for new arrivals, but forgetting the natives and long-time residents, isn't."
The organization had endorsed the incumbent mayor, Vincent Gray, in the April 1 Democratic primary.
"We extend our congratulations [to Bowser] and pledge our wholehearted cooperation to help solve the problems of this city, and assist all of its citizens to the maximum extent possible," McGrath said. "Those problems are many, varied, long-standing, and very serious. We have worked long and hard to try and resolve them."

Fifty-five percent of all District residents are renters and the city has long had rent-control laws that have become a model for other cities. Nevertheless, rents are increasing and the city is fast becoming unaffordable for those earning less than $50,000 a year.


"Housing is not a commodity," he said. "We are not talking 'pork bellies' or 'oil futures' but the roof over people's heads. A welcome sign for the rich is also fine, but not in exchange of an exit sign for the poor."