Cory Booker, Tim Scott Team for Bipartisan Bill to Aid Job Creation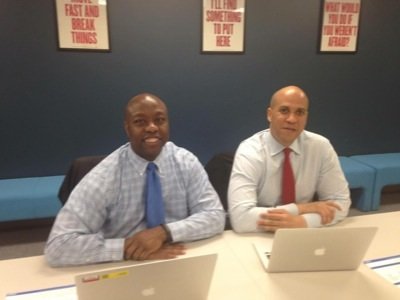 Cory Booker (D-N.J.) and Tim Scott (R-S.C.), the Senate's lone African-Americans, recently introduced a bill that would provide a tax credit for employers to help increase the number of registered apprenticeships.
The duo's Leveraging and Energizing America's Apprenticeship Program (LEAP) Act, brought to the Senate floor Wednesday, aims to help fill the four million job vacancies nationwide.
Apprenticeships provide job training to workers for a specified period of time and can lead to full-time employment and, at the least, a marketable skill with experience. However, Labor Department statistics indicate that only 0.2 percent of the workforce is involved in apprenticeships.
"Our competitiveness and economic strength depends upon our commitment to developing a 21st century workforce," Booker said. "I'm thrilled to join Senator Scott in putting forward this bipartisan, private-sector driven legislation that can create more career opportunities, especially for young people.
"The LEAP Act will motivate employers to invest further in our workforce and help expand the economic recovery by tackling unacceptably high youth unemployment," he said.
The two lawmakers, both the first African-Americans to represent their states in the Senate, are an unlikely pairing. Booker is the former mayor of Newark and considered a progressive with sensitivity toward big business, while Scott is a tea party-affiliated conservative.
Scott said he can attest to the usefulness of apprenticeships, citing a student program in his state that he said also provides tax credits for job creators.
"Because of our balanced approach, we have seen international companies like Boeing and BMW, as well as many smaller businesses across the state, begin to use the program and provide new employment opportunities for individuals," he said. "I am pleased to work with Senator Booker on this important piece of legislation because the LEAP Act will build on South Carolina's already successful model at the federal level."