Michael Eric Dyson, D.C. Council Push for Statehood at Emancipation Day Brunch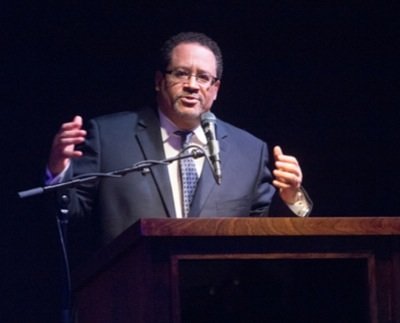 Renowned author and academic Michael Eric Dyson told an audience Sunday at the Emancipation Day Brunch in D.C. that the day that slaves were freed in the District should not be forgotten, nor should the city's ongoing battle for statehood.
"This is the reverse Juneteenth," Dyson said, referring to the legal holiday in Texas when enslaved blacks found out that they were free. "In Texas, they got it two years late but at least here in Washington, we got freedom early. I love you, Brother [Abraham] Lincoln."
President Lincoln issued an emancipation proclamation for the 3,100 slaves in the District on April 16, 1862. Months later, Lincoln issued the official proclamation that freed slaves in the Confederacy.
The brunch at the Hamilton in Northwest was led by D.C. Council member Vincent Orange (D-At Large) and his colleagues, Council Chairman Phil Mendelson (D) Muriel Bowser (D-Ward 4), Yvette Alexander (D-Ward 7), Kenyan McDuffie (D-Ward 5), David Catania (I-At Large) and Anita Bonds (D-At Large).
Entertainment was provided by saxophonist Brian Lenair.
Several council members used the opportunity to stress the importance of the city obtaining full statehood, urging audience members to contact friends and relatives in other states for support.
Catania, who is running for mayor in November, said that gaining full citizenship for District residents "cannot be done just by talking to ourselves but to others."
Bowser, the Democratic mayoral candidate, said that attaining freedom in the District would not only afford more political rights but also help bridge the gaps among city residents in education, income and opportunity.
"I am committed to closing those divides," she said.
Dyson agreed that the District has some unfinished business regarding freedom.
"This holiday symbolizes that the freedom movement started here in D.C. but the tragedy is that D.C. is still not free," he said. "We need to move the fight for D.C.'s right from the parchment to the pavement."
He urged the president to do more to help the District obtain statehood.
"President Obama is the highest ranking black man to live in public housing," Dyson said. "He is in his second term and he doesn't have to run no more, so just do it and stop being scared. Use your bully pulpit and defend the vulnerable."