D.C. Mayor Gray Questions Law for At-Large Council Seats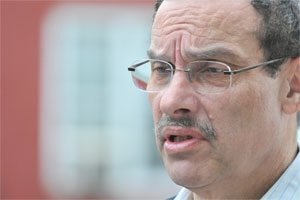 D.C. Mayor Vincent Gray expressed his concerns Wednesday about a law in the city's home rule charter that sets aside two at-large seats on the D.C. Council for non-Democrats.
"It seems to me that the compromise with the Republicans who supported home rule in the District in 1973 that two at-large seats go to Republicans or non-Democrats is outdated," Gray said Wednesday at the Emancipation Day Parade in Northwest. "That compromise took place 40 years ago and it should be revisited."
Though the Democratic Party has a 10-1 registration advantage over the Republicans in the District, the city also has a large bloc of voters with no party affiliation.
Before 1988, Republicans Jerry Moore and Carol Schwartz were at-large members of the council along with Statehood Party members Julius Hobson and Hilda Mason.
The first independent to win election to the council was William Lightfoot, a former Democrat, in 1988. The last Statehood party member to serve on the council was Mason, who lost a re-election bid in 1998.
For several years, Schwartz and David Catania served on the council as Republicans. Catania changed his party affiliation from Republican to independent in 2004 because of the GOP's national stance on same-sex marriage.
In 2008, Michael Brown left the Democratic party to become an independent and served on the council from 2009 to 2013.
D.C. Council member David Grosso (I-At Large), who has worked for D.C. Delegate Eleanor Holmes Norton (D), defeated Brown for re-election in 2012.
Former journalist and D.C. Fiscal Policy Institute Budget analyst Elissa Silverman will likely run as an independent for the non-Democratic at-large seat in the Nov. 4 general election. She came second in the April 2013 special election to fill the Democratic seat of Phil Mendelson.
D.C. Council member Yvette Alexander (D-Ward 7) is also mulling a run as an independent for the non-Democratic at-large seat in November.
Gray said that it is unfair that the District has to be penalized for its strong Democratic base.
"No other jurisdiction in the United States is set up this way," the mayor said. "You have some states where there is one party rule and that is not prohibited. It is the people who should decide who should be elected to office."
Gray said that the at-large arrangement is why the city needs to run its own affairs without the interference of Congress.
"The people of the city should be free to elect whom they want to and not be hamstrung," he said.