D.C. Political Roundup: Alexander Bid Generates Talk in Ward 7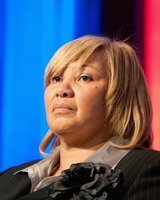 The possibility that D.C. Council member Yvette Alexander (D-Ward 7) will run for one of the two council at-large seats in the Nov. 4 general election has elicited strong reactions from Ward 7 leaders.
"I think it is an interesting move," Villareal Johnson, a community activist, said. "I hope that people will see her value. She's a great person and deeply cares about the District of Columbia."
However, Greg Rhett, the former president of the Eastland Gardens Civic Association in Northeast, said that Alexander's actions are puzzling.
"I was like 'what in the world', how, huh?" said Rhett, 54. "I am still trying to absorb this on so many levels."
Alexander said publicly that she hopes to become an at-large council member because they deal with broader issues and concerns that the city faces as opposed to a ward. Rhett said that it's his understanding that during a conversation Alexander spoke disparagingly about having to perform constituent service work and that concerned him.
"I heard that she said that she did not want to be bothered with constituent services and would rather focus on her committee chairmanship," he said. "I don't like that at all."
Alexander said, in a April 10 interview with the Informer, that she's performed constituent service work for residents in all wards and that her work as an at-large council member would benefit Ward 7.
Darlene Williams, a resident of Deanwood in Northeast, has problems with Alexander running in November.
"I will not vote for her," said Williams, 53. "She has not proven herself in Ward 7. She needs to do more in Ward 7."
If Alexander runs, she must leave the Democratic Party and register as an independent. For example, she could run as an independent in the general election and keep her seat on the D.C. Council as a Democrat.
Rhett doesn't agree with the game plan.
"As a voter and a Ward 7 Democrat, I am offended that she would do that," he said. "We elected a Democrat to represent us in Ward 7. God bless her for what she wants to do but if she does run as an independent, I would suggest that she step down from the council and run."
Alexander said that she will make up her mind on the at-large race by the end of May. Ed Potillo, the chairman of the Ward 7 Democrats, didn't comment on Alexander's plans.
"Once she declares for the council, then I will have a response," said Potillo, 45.


Hagler Set to Run for D.C. Council
The Rev. Graylan Hagler, one of the District's most progressive ministers, is taking his passion for politics to another level and will soon declare his intention to run for one of the two at-large seats on the D.C. Council in the Nov. 4 general election.
"The District is politically in a disastrous state of affairs," said Hagler, 61. "The voter turnout in the April 1 primary was bad. The reason is that people did not see anyone who represented them [among the mayoral candidates]."
Hagler recently made news with his efforts to keep Wal-Mart out of the city and his push for a living wage for all District workers.
He said that as a member of the council, he will work to end the "pay-to-play" culture at the John A. Wilson Building in Northwest.
"Lobbyists have more access to members of the city council than does the average citizen," Hagler said. "If I am elected, I will become the 'conscience of the council' and work on behalf of the people."
Hagler doesn't have a date set to announce his candidacy. However, he wants to win the general election and intends to work hard to achieve that goal, he said.
"I have prayed about this and have discussed my bid with people," he said. "Somebody has to step forward and let the people know that someone will fight for them."