Dick Gregory Preaches Black Unity at Prayer Breakfast in D.C.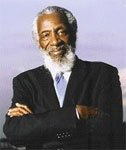 Famed comedian and social activist Dick Gregory spoke at the Emancipation Day Prayer Breakfast in D.C. on Wednesday, leaving attendees rolling on the floor with his witty comments on the condition of African-Americans in D.C. and the rest of the nation.
Gregory, filling in for Rev. Al Sharpton as keynote speaker, did not disappoint.
"We really should have liberation before education," Gregory said. "I have 10 children and they knew that, in our household, money went to the cause instead of education. All you folks are dressed up in here but you all are trying to be like someone else."
D.C. Council member Vincent Orange (D-At Large), a longtime facilitator of Emancipation Day celebrations, presided over the event. Several council members also spoke at the breakfast, including Muriel Bowser (D-Ward 4), the Democratic nominee for mayor.
But Gregory was the star of the event. He touched on several key moments of his six-decade career in entertainment and civil rights, which includes hunger strikes for various causes, the founding of a weight-loss product company, an unsuccessful bid for mayor of Chicago in 1967 and a subsequent run for president of the United States a year later.
Gregory also broached a number of D.C.-related subjects, including a warning that majority black rule in the District won't last forever.
"Could you imagine Berlin in the 1930s and '40s being under control of the Jews in Nazi Germany?" he said to gasps and giggles from the audience.
Referring to the controversy over corrupt black officials in the District, he said that was nothing compared to Chicago.
"Did you know that when I [ran for] mayor, dead people still voted?" he said to laughter.
On that point, he said that former Detroit Mayor Kwame Kilpatrick, who is incarcerated, is doing better than the average black resident of that city.
"He will get three [square meals] a day — unlike most of the black folks in Detroit," he quipped.