Duo Helps Liberian Children Fight Corruption
Sam P.K. Collins | 4/16/2014, 3 p.m. | Updated on 4/19/2014, 10:59 a.m.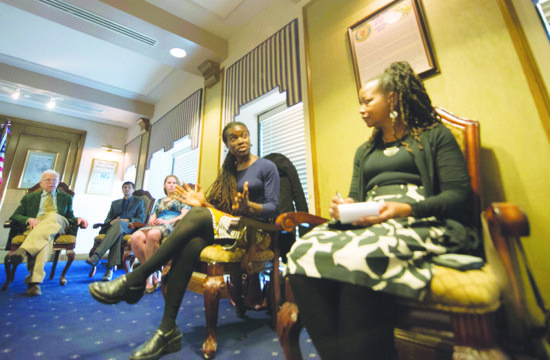 Corruption remains persistent in Liberia more than a decade after the end of a brutal civil war and election of the first African woman head of state. Efforts to curb unethical behavior in the public and private sector have proven difficult in a nation with high unemployment and widespread poverty.

However, many people, including Liberian author Robtel Neajai Pailey and Seren Fryatt, a former player in the Liberian Women's Professional Soccer League, believe that children have the potential to eliminate corruption in Liberia. Through their individual efforts, both women have sparked discussions among young people about the shady dealings that often occur in the West African country.

"We had a civil war because people felt [they were not treated] equally," said Pailey, 32, author of Gbagba, a popular children's book that examines corruption in Liberian society through the story of Sundaymah and Sundaygar, a twin brother and sister who are visiting relatives in the capital city of Monrovia.
"We often think that children do not know about the confusing ethical codes of adults," said Pailey, who lives in London. "They understand corruption much more than we give them credit."
An audience of more than 20 people listened as Pailey and Fryatt recounted their experiences and provided insight about the current state of affairs in Liberia in the McClendon Room of the National Press Club in Northwest on the evening of April 10. Denise Rolark Barnes, publisher of The Washington Informer moderated the hour-long discussion, during which both women drew connections between corruption, tribal conflicts and socioeconomic disparities.
"If we don't address issues of income inequality, then corruption will persist," said Pailey. "There is a case [to be made] when politicians are paid thousands per month in a post-conflict country and teachers only receive $100. That shows that you value the politician much more than the teacher or the doctor. We have to set standards and instill [moral values] in our children."
A 2013 report by the Centre for Transparency and Accountability in Liberia described a culture of corruption that often allows government officials to engage in a host of unscrupulous activities without penalty. Although the report acknowledged the efforts of Liberia's Anti-Corruption Commission to address and prosecute dishonest behavior, it warned that bribery, nepotism, and out-of-control spending undermine Liberia's efforts to build a strong infrastructure and provide good-paying jobs to millions of unemployed Liberians.
During the discussion, Fryatt described helping Liberians organize special community sporting events for youth of various ethnic tribes through her Northwest-based nonprofit Life and Change Experienced thru Sports (L.A.C.E.S). During a competition touted as the Kick Out Corruption Game, the referee made calls that favored one team without the participants' knowledge. After 10 minutes, the young athletes gathered to discuss the impact of corruption in their lives.

"We found that children could peacefully address conflicts within seven months by using our curriculum," said Fryatt, 34, the founder and executive director of L.A.C.E.S who hails from Muncie, Ind.
"The children are the future of [Liberia]. In order to take a standardized test in this country, they often have to [pay the teachers fees]. My hope is that when these students become teachers, they will fight that [system]. That's our motivation and our belief."