Duo Helps Liberian Children Fight Corruption
Sam P.K. Collins | 4/16/2014, 3 p.m. | Updated on 4/19/2014, 10:59 a.m.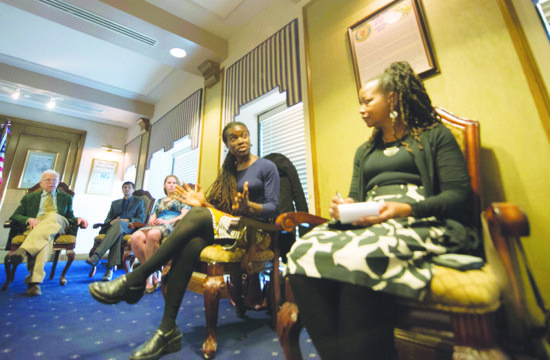 Kimberly Hanson, a global health consultant, attended the intimate gathering to learn more about corruption and ethnic conflict in West Africa. She found the discussion to be enlightening in terms of holding officials accountable.

"It's important to learn about work against corruption through nontraditional methods," said Hanson, 26. "We learned that working with young people makes a great impact for the future. I appreciate learning about the different methods and the valuable skills of the speakers," said Hanson, an Alexandria, Va. resident.
Since Pailey released Gbagba in 2013, the book has received an endorsement from Liberia's Minister of Education Hon. Etmonia David Tarpeh. Last year, the World Bank's member office in Liberia purchased 100 copies of the book. The Open Society Initiative of West Africa, a nonprofit committed to building tolerant democracies also donated 1,500 copies to 10 schools in the West African country.
Pailey, who worked in Liberia's Office of the President for four years, said that it was not until she discovered that four students submitted forged government documents in their applications for international scholarships that she felt compelled to write a children's book about the issue.

"We have to start the conversation about corruption with children and show them that this is how we change society," said Pailey. "There's a deliberate attempt in the book to show that there are consequences for actions. The twins in this story act as the moral compass for Liberian children."