EDUCATION BRIEFS: Updated D.C. Schools Calendar Released
4/16/2014, 3 p.m.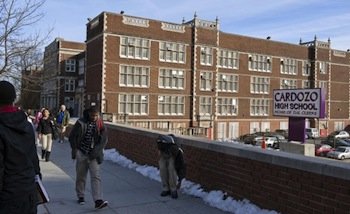 Students at the District's public schools may not have to make up two snow days, but they'll still get a late start on summer, with June 20 being the last full day of classes.
The 2013-14 calendar was updated after officials received permission to waive two of its six snow days.
"Many teachers, principals and parents provided feedback as we worked to develop our final calendar," school officials said in a statement.
Due to the high number of weather-related cancellations this winter, school officials filed an appeal with the Office of the State Superintendent of Education to waive the 180-day minimum. The waiver was granted, meaning students will not have to make up the March 3 and March 24 snow cancellations.
Students will not report to school on May 2, which is a professional development day for teachers.
Schools to Receive Additional Funding
D.C.'s public schools system is poised to receive more than $77 million to assist thousands of needy and at-risk students, partly due to Council Member David Catania's Fair Funding Act legislation.
Catania, an at-large independent who chairs the council's education committee, said the funds have been added to the proposed budget for Fiscal Year 2015.
"With the release of the proposed Fiscal Year 2015 budget, we will deliver the resources needed to begin to address the real barriers that stand in the way of our most challenged students and academic success," said Catania, who is running for mayor in the Nov. 4 general election.
According to Catania's legislation, which was passed by the D.C. Council, "at-risk" students are those who are homeless, within the foster care system, eligible for Temporary Assistance for Needy Families or the Supplemental Nutrition Assistance Program (SNAP), or high school students above the expected age for their grade. A combined 37,000 students in both public and charter schools fall under one or more of these categories.
Charter Students at First Lady's Planting Event
First lady Michelle Obama recently joined students from Friendship Public Charter (FPCS) School in Northeast and leaders from FoodCorps on the South Lawn for the sixth-annual planting of the White House Kitchen Garden.
The White House garden was first planted in 2009 to inspire healthy eating habits. The garden and the nationwide Let's Move! campaign were launched in tandem to promote healthier lifestyles among children and their families.

At this year's April 2 planting, the first lady worked alongside the students planting a variety of fruits and vegetables, including collard greens, rhubarb, onions, strawberries, raspberries – and a new addition called a paw paw tree.
"Guys, this is awesome," she said complimenting the students. "Look at all the work you did. You know how long this would have taken me if I did it by myself?"
The New York-based FoodCorps program teaches children about healthy food while ensuring they have access to nutritious meals during the school day.
In addition to FPCS students, FoodCorps members will serve other District-area schools at its fall garden-planting event.