Emancipation Day, Statehood Share Spotlight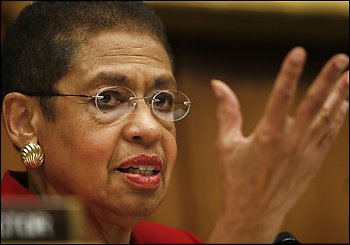 Brown agreed.
"Power concedes nothing without a demand, and 20 people do not make a demand," he said. "(Local attorney) Johnny Barnes said give me 50,000 people on the White House lawn and we'll have statehood."
"We're moving but it's like watching grass grow. We're moving but it's like an iceberg."
Several of the speakers, acknowledged that their passion must be matched by a consistent message, greater planning and coordination, funding and workable strategies. But they said they remain undaunted in their desire to wrest the political power and autonomy enjoyed by other states from Congress.
"During Reconstruction, Congress didn't want any enclave with a large black population. Those in power (Congress) are used to having their last plantation. Also, people (in power) like to have a small council that they can buy," said Anne Loikow, chair of D.C. Statehood, Yes We Can! who spoke about the fundamental differences between statehood and voting rights. "People confuse the issue … voting rights isn't freedom or liberty for the people of D.C. Voting rights is totally irrelevant if you have nothing to vote for."
"There are powerful interests who don't want D.C. to become a state. There has been division all the way. Pursuing voting rights is not on our website and is not representative of us. [Voting rights advocates] have gotten hundreds of millions of our dollars to lead us down a dead end."
Plotkin said he supports voting rights for strategic reasons, with statehood being his ultimate goal.
"Voting rights is a pathway," he explained. "I want to win on some things. You get to join the Country Club (Congress) … (and) I want to lock in votes. (Now), you have no autonomy, no control over your own fate. If you're serious about this, statehood is the only option."
The panelists at the April 11 event cited several examples to illustrate the District's political impotence.
For example, Congress controls the city's purse strings; maintains control over which laws city officials can enact; the city's bond rating is often at the mercy of the vagaries of Congress; Congress siphons off billions of dollars in taxes each year but while D.C. residents vote for a Congressional representative, she has no vote and residents can't vote for a senator.
In addition, it's customary and they said they hoped a hearing would be scheduled soon. Most of the Senate's Democratic leaders have signed on in support of the bill. Both men said they and others have being trying to convince the uncommitted such as Sen. Claire McCaskill (Mo.), for members of Congress on the House Appropriations Committee to routinely add social policy riders to the D.C. budget which prohibit a needle exchange program, fund a school voucher program; deny the city the right to use local taxpayer money to provide abortions for low-income women; and pay for medical marijuana programs.
The irony wasn't lost on any of them that the very same goals and ideals for which the United States is known around the world isn't exercised in the nation's capital.
Loikow said too many people in the city don't know their history, and don't understand the Constitution. She and other panelists detailed residents' struggle from the 1800s to the present.
"It is the essence of the right for people to govern themselves," she said. "People have gone to war for this, declared wars. This is what independence is about: Life and liberty. The government's power is derived from the consent of the governed. What we have given our consent to is statehood."