Emancipation Day Workshops Highlight Slavery, D.C. Statehood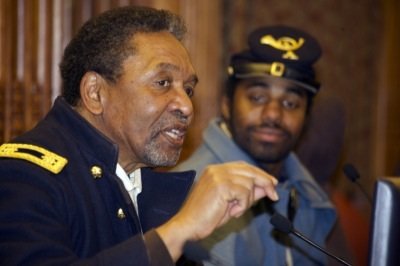 As the District marked the anniversary of its Emancipation Day, a set of educational workshops Wednesday at the Wilson Building in Northwest both celebrated the city's historic day of freedom and focused on its ongoing struggle to attain statehood.
Frank Smith, founding director of the District's African American Civil War Memorial and Museum, moderated an in-depth discussion about the District's emancipation act and the impact of slavery on the United States and abroad, particularly for blacks in America.
"It's important for people to understand the horrors of slavery," Smith, dressed in a Civil War major's uniform, told an audience of about 40. "Slaves were willed to owners' families. They were won and lost in poker games. Human beings were bought and sold."
The District of Columbia Compensated Emancipation Act, signed by President Lincoln on April 16, 1862, freed 3,100 slaves, making the District first in the nation to end slavery.
"It was called the 'Compensated Emancipation Act' because the [federal] government paid slave owners for freeing their slaves," Smith explained. "The government and the slave owners developed a list of slaves the owners would sell. It had separate columns for slaves' names, ages, gender, identifying marks, and a comments column describing how much each slave was worth."
Owners earned up to $300, he said. Some slaves were worth "zero."
"Then you read the comment, and it might say something like, 'Slave is 57 and has only one leg,'" he said.
Slave labor was critical to national and foreign wealth, generating nearly three-quarters of the U.S. economy, he said.
"Ships from Liverpool, England, would carry crops to England that slaves planted and harvested," Smith said. "Stocks and bonds were traded over slavery."
Smith said Lincoln wrote the Act with the idea of prompting a slave revolt and arming the slaves. Those who were physically fit were added to the Union Army.
Although Lincoln was motivated by military strategy, his actions were generally noble, Smith said.
"It marked the first time in 250 years of slavery that anyone promised slaves their freedom," he said.
Although former slaves were significant in the Union Army's triumph, said Smith, African-American Civil War regiments were left out of the District's emancipation and victory march after the war.
Smith said his museum is organizing a Grand Review Parade for May 17, 2015, to rectify that oversight.
"Any African-American in the District who is descended from a Civil War soldier can march in a Civil War Union soldier's uniform. Family members are encouraged to march with them," he said.
The discussion on District statehood followed Smith's workshop. The panel was sparsely attended, which participants said spoke volumes.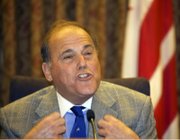 "The fact that this crowd isn't as large as it should be is indicative of where [District residents] are on the statehood issue," said moderator Mark Plotkin, political analyst for WTOP Radio. "When Reverend Jesse Jackson was the District shadow senator, I asked him what it would take to get District residents angry about not having statehood. He said, 'When it rises to the level of personal insult.'"
Panelists and current shadow Sens. Michael Brown and Paul Strauss said they believe a District statehood bill might have a chance in passing the U.S. Senate this year, as some Democrats on the Senate Subcommittee on Emergency Management, Intergovernmental Affairs and the District of Columbia support it.
"It's rhetorical support," Plotkin said. "You have to have hearings in the subcommittee and the full committee before the full Senate votes on it."
Brown said he anticipates action on the bill before November.
Council member Yvette Alexander (D-Ward 7) won applause from the audience while speaking of her efforts to achieve statehood for the city.
"We on the council aren't doing anything" about statehood, she said. "District residents should hold us accountable."
Anise Jenkins, executive director of Stand Up for Democracy in DC, said fighting for statehood honors the slave ancestors freed by the District Emancipation Act.
"Elected officials won't do anything until they're [forced to]," Jenkins said. "It's up to you. It has to come from the passion of the people."