Harlem Remembrance Foundation Brings 2012 Awardee to P.G. County Middle Schools
4/16/2014, midnight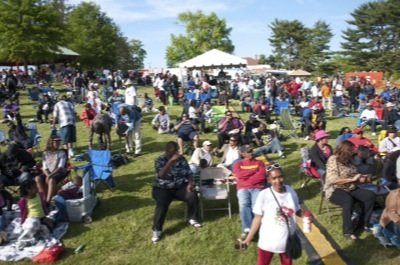 Mindful of its mission of using the arts and culture to educate, The Harlem Remembrance Foundation of Prince George's County will host the 2012 National Arts and Humanities Youth Program Award Winner, Alchemy, Inc. of Akron, OH to introduce their unique and highly successful male youth self- improvement program to male county middle school students. The program has received the nation's highest honor for after-school and out-of-school programs.
Alchemy encourages male youth to think, write, speak, and live mythically— Becoming the Hero Within their Own Stories. This is accomplished over time through understanding the common themes in myths and ancient stories and incorporating the character traits of the hero into their lives.
"In fact, myths contain profound wisdom," says Kwame Scruggs, executive director of Alchemy, Inc. "They speak to archetypal situations, universal dilemmas," he explains. "Embedded in myths are guides to behavior that I believe can help counter some of the destructive images of masculinity that have taken root in some aspects of urban culture."
Another primary goal of the program is to improve the participants' Social and Emotional Learning. The objectives are to: Improve Self-Awareness;
Improve Self-Management; Improve Self-Motivation; Improve Decision-Making; Improve Social Awareness; and Improve Relationship Skills.
"We are extremely fortunate to bring this nationally recognized program to the young men in Prince George's County," said David Harrington, Chairman of the Board for the Harlem Remembrance Foundation. "We want to spark their creative thinking and change behaviors through this outstanding arts and humanities program."
The founders of Alchemy will be joining the Prince George's Harlem Remembrance Foundation in celebration of the Foundation's 15th anniversary and will host two days of its award-winning program for 8th grade male students at the Gallery Serengeti, in Capitol Heights, Md., on April 30 and May 1.
Alchemy will also be a part of the Harlem Renaissance Festival Discussion Panel in the 267 House at 2 p.m.