Oakland Raiders' Usama Young Gives Away Hundreds of Books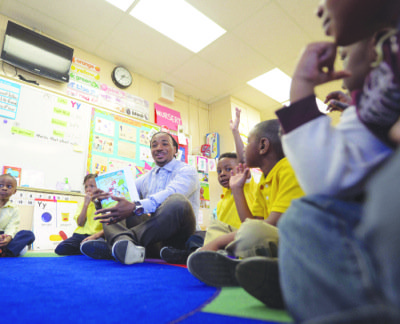 A professional football player expressed his love for reading and donated hundreds of children's books during a visit to a District school last week.
Usama Young, safety for the Oakland Raiders recently served as "Principal for a Day" at John Burroughs Education Campus in Northeast. During his tour of the school on April 10, he stopped by several classrooms, chatted with students and passed out more than 300 copies of Dr. Seuss' "Oh the Things You Can Do that are Good for You."
"Children should always read and pay attention in school," said Young, 28. "That's the point I would like to get across to students today. The brain is always working and we have the capacity to fill it with information. [When the children see that] even an NFL player likes to read, they will [understand] that they should not just focus on sports."

Young's professional football career took off in 2007 when he entered the NFL Draft as one of the top defensive prospects from Kent State University in Kent, Ohio. The New Orleans Saints selected him as the 66th overall pick during the third round of the draft. Young went on to enjoy success with the Saints, helping the team win a league championship in 2010. He later played for the Cleveland Browns as a free agent during the 2011-2012 season before joining the Raiders in 2013.
The five-hour visit proved to be a homecoming of sorts for Young, who attended Burroughs Education Campus as a youngster before transferring to Phyllis E. Williams Elementary School in Largo, Md. in 1992. Last Thursday's event preceded a similar gathering that took place at Williams Elementary the next day. Young donated nearly 1000 books to students at both schools over the course of two days.
Wearing his enormous Super Bowl ring and a wide grin, Young strolled through the hallways of Burroughs Education Campus with a small group that included his father, his wife, the principal of the education campus and representatives of Athletes for Charity, a New York-based youth enrichment nonprofit with whom he organized the event.
"It's inspiring to know that a former student has taken his time to give back," said Aqueelha James, principal of John Burroughs Education Campus since 2013. "We value literacy because it is the foundation of all learning. To see an NFL player use his resources to support that initiative leaves me speechless," said James, an Upper Marlboro, Md. resident.

Betty Jackson, a parent who volunteers at the education campus, beamed from ear to ear and snapped photos as her four-year-old pre-kindergartener and his classmates frolicked around the six-foot, 200 pound safety. She said that the professional athlete served as a positive role model for the young males.
"Many of the young men have been impacted in some way," said Jackson, 48, a transportation program specialist for the federal government. "Usama Young's visit gives them something that will push them to read. They will carry these books around because a memorable person gave it to them. They can pick these books up and carry them along to the first grade. A lot of these children don't have this experience at home," said Jackson, a Northeast resident.
Young later visited a kindergarten classroom and spoke to the group of more than 20 students as they completed a reading activity, commending them for their good behavior. He also announced a contest where students could win a football autographed by the NFL star for their drawings that portray children reading books.
Tarsha Warren, a kindergarten teacher at Burroughs Education Campus since 2003, applauded the professional athlete's efforts to foster a love of reading among the children, saying that his words have planted a seed in their minds that will inspire them for years to come.
"It's important that young students see that professional athletes take a vested interest in education," said Warren, 42. "I explained to them that a football player once went to this school. These days, many children see reading as [something that's] mundane. Receiving these books will make such an impact in their lives. I want these students to have a love of learning. If you instill that love of learning, even the children that may be a little behind will keep pushing," said Warren, a Northeast resident.