Report Finds Va. Prisons Expensive, Racially Biased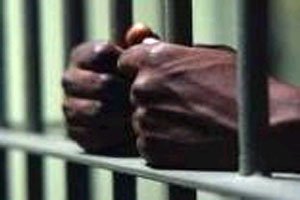 Virginia's corrections system keeps prisoners locked up for years without parole, particularly for drug offenses, costs the Commonwealth's taxpayers $1 billion, and disproportionately affects incarcerated seniors and African-American men.
These are key findings in an April report titled "The Billion Dollar Divide: Virginia's Sentencing, Corrections and Criminal Justice Challenge." The Justice Policy Institute (JPI), a Washington, D.C.-based nonprofit working to reduce use of incarceration, published the report. Details of the report were discussed during an April 3 town hall event at Richmond's Virginia Union University Police Academy.
"The long sentences are due to Virginia's Truth-in-Sentencing guidelines," said Jason Ziedenberg, the report's co-author and JPI's research and policy director. Ziedenberg said the guidelines, enacted in the 1990s, eliminated parole and reduced access to good-time and earned time credits. Virginia later adopted mandatory minimum, or compulsory, sentences, where courts have no discretion over sentence lengths. A fourth of such sentences only apply to drug crimes. The report says between 1992 and 2007, the number of individuals serving time for drug offenses increased by 72 percent, with no corresponding reduction in crimes.
"The longer sentences result in more seniors [living out their lives] in prison," said Ziedenberg. "This adds to Virginia's incarceration costs in order to meet the medical needs of seniors. In Virginia, there are nearly 5,000 prisoners between 50 and 59 years old. If you include prisoners between 60 to 65 years old and older, there are nearly 6,000 older prisoners in Virginia's prison population."
Also alarming, said Ziedenberg, is that African-American men are 60 percent of the prison population, and 72 percent of all prisoners incarcerated for drug-related crimes, but comprise 20 percent of Virginia's population. "There is a lot of talk about achieving fairness in the criminal justice system" said Ziedenberg. "But these figures should be enough to [upset] Virginia taxpayers, and give them pause. Research shows that there is no difference [in white and African-American drug sales and use]. There is no reason why African-Americans should be disproportionately incarcerated."
Jesse Frierson, executive director of the Richmond-based, nonprofit Virginia Alliance Against Mass Incarcerations, which is a JPI partner, said the only reason Virginia pays billions for ineffective corrections is to support prison-related industries.
"Virginia's 1990s prison building boom resulted in 14 new prisons," said Frierson.
"If anyone, beyond lawmakers making political hay [with a 'tough on crime' mentality] benefits, it's the once jobless in the very rural communities in southwest Virginia and other economically destitute parts of the state," he said. "Maximum [prison] occupancy means jobs and lucrative construction contracts, for the uneducated, poor, destitute and downtrodden residents."
Ziedenberg said Virginia's government should spend much less on prisons and more on support services for returning citizens and their communities. "Many of the more than 400,000 people with felony convictions [released after serving time] can't vote, have trouble finding jobs, getting an education, or access to other benefits [that could reduce recidivism]," he said.
JPI sent its report to Virginia lawmakers, including Gov. Terry McAuliffe. Brian Coy, McAuliffe's press secretary, said the governor is reading it. "[McAuliffe's] responsibility is keeping the Commonwealth safe while protecting the resources of the taxpayers," said Coy.
Congressman Bobby Scott (D-3rd District), a member of the House Committee on the Judiciary, issued a statement which said JPI's findings are not surprising. He said that billions spent on incarcerations should support prevention and early intervention strategies instead.
Scott called for the elimination of federal and state mandatory minimum sentencing. "Granting judges more discretion to sentence individuals based on the actual circumstances of the crime can also alleviate the discriminatory impact of our current justice system," said Scott.
Virginia's General Assembly missed legislative opportunities during this year's session to reform the corrections system, said Ziedenberg. It did not pass a bill which would have earned release for people convicted with drug offenses by increasing the maximum of good-time credits. Another bill would have provided eligibility for Temporary Assistance to Needy Families (TANF) to individuals with drug-related felonies.
"We're hopeful that Virginia will take the same steps other states with similar budgets and corrections issues have taken regarding parole, good-time, and length of sentences," said Ziedenberg.
The report can be found at www.justicepolicy.org.