Sebelius Resignation Gets Mixed Reviews
Questions Still Plague Rollout, Particularly for African-Americans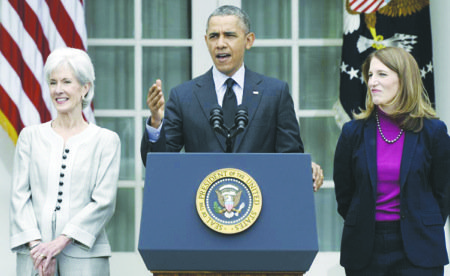 Health and Human Services Secretary Kathleen Sebelius has resigned her post, leaving behind some unanswered questions about the Affordable Care Act (ACA), particularly from African-Americans, many of whom remain perplexed over the law.
In announcing her resignation, Sebelius said the president knew that asking her to stay on wasn't an option.
"I thought it was fair to either commit until January of 2017 or leave with enough time that he would get a strong, competent leader," Sebelius, 65, said in a statement.
White House officials promised that 7.3 million African-Americans with private insurance would have access under the new law to preventative services like cholesterol screenings, mammograms, and flu shots with no out of pocket expenses.
And, while 4.5 million elderly and disabled blacks would receive coverage through Medicare, more than 500,000 young African-Americans were assured that they would benefit from the ACA because it allows them to stay on their parents' plan until they are 26.
Still, many unanswered questions remain, such as why the law appears to help the very poor – those earning less than $25,000 a year with a family of four – but does very little for those with annual incomes above $25,000 and less than $50,000.
Health officials noted that disparities are still a cause for great concern, as blacks are 55 percent more likely to be uninsured than whites.
"I have two teenage sons and the coverage under the Affordable Care Act cost about $300 less than what I previously paid," said Arihanna Boyd, an African-American designer who lives on Capitol Hill.
Boyd said she had hoped for more of a break, but her salary which approaches $50,000 annually, only allowed for a cut from the $1,400 per month she had been shelling out for health insurance.
Meanwhile, the now departed Sebelius felt the brunt of criticism after she initially promised a smooth rollout of the health care's federal website, www.healthcare.gov, which proved to be a mistake because the site experienced various technical problems and glitches.
"Clearly, the estimate that it was ready to go on October 1 was just flat out wrong," Sebelius said. "The launch of the website was terribly flawed, terribly difficult. Could we have used more time and testing? You bet. If I had a magic wand and could go back to mid-September and ask different questions based on what I know now, I would. I thought I was getting the best information from the best experts, but clearly that didn't go well."
Also, Sebelius told NBC News that she offered Obama her resignation last month, but the president declined to accept it until the March 31 deadline passed for enrollment into the health exchanges.
Obama quickly nominated Sylvia Burwell, 48, the director of the Office of Management and Budget in Northwest to replace Sebelius.
Enrollment through the ACA has reached about 7.5 million U.S. residents.
Sebelius said 11.7 million residents have been determined eligible for Medicaid or for the Children's Health Insurance Program.
The figures do not include the number of residents who have paid their first months' insurance premiums, which is required to activate coverage, officials said.